Canon imagePRESS Lite C265
July 29, 2022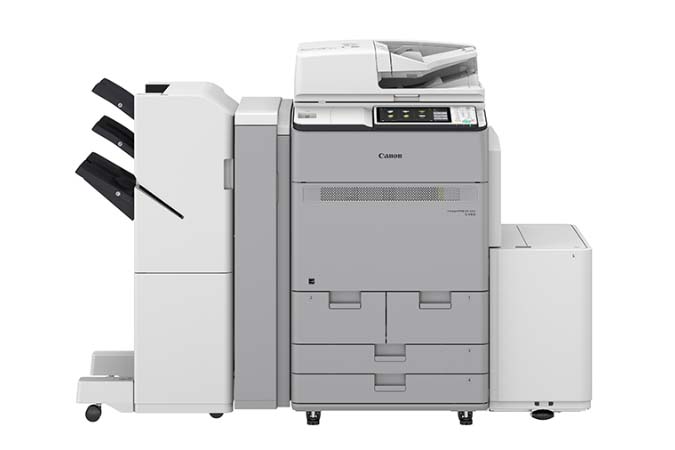 Have you been looking for a Canon imagePRESS Lite C265? The Canon imagePRESS Lite C265 is one of our favorite copiers and light-production printers on the market today.
We have been selling Canon copiers for years, and the Canon imagePRESS Lite C265 model replaces the prior generation Canon imagePRESS Lite C165 copier. Canon USA made a copier which is one of the most competitive in this category of copiers.
This copier is not for home offices, small offices or people who need just an A4 multifunction peripheral (MFP.)  This copier is great if you need a light production copier. We will go over some of the features this copier and why your company will love the Canon C265 copier.
How Much Does Canon imagePRESS Lite C265 Cost?
This is one that gets tricky to answer because there are more than 30 possible accessories the Canon C265 can be sold with. Let's say a safe number is it would be unusual to find it for $400 per month and unusual to find it for more than $800 per month for the device, plus the cost of the prints needs to be added.
Where it falls for you will vary drastically depending on what features you choose to add and how many devices your company owns, how many pages a month it will print and where you are geographically from the service center. This is one you will need to get quotes on, as there is not a great number we feel comfortable publishing saying, "This is what a Canon C265 should cost a company per month."
PRISMAcolor Manager
Canon has introduced a new color quality manager. What it offers is an efficient way to double check and ensure the colors being printed by the copier are the colors you want.
Rather than having to know sophisticated software to color calibrate, this is a much more efficient method to get the color correct for all of your print jobs. It will even help you have the right settings depending on the paper type. This is especially useful for print shops who want to get the right color for clients without spending all day to calibrate the Canon C265.
A full, detailed press release about PRISMAcolor can be found here.
Canon imagePRESS Lite C265 Features
65 pages per minute
32 pages per minute for 11 x 17
Fast scan speeds – two-sided scans up to 270 images per minute
Weight – 593 pounds
Dimensions (W X D X H) – 27.1″ X 37.1″ X 46.7″
Max paper weight – Up to 350 gsm
Max paper size: 13″ X 19.2″
Let's quickly go over why these matter. Also, we will discuss what are some of the industry norms.
65 pages a minute is useful if you have a busy office, because it is much faster than an average 35 to 45 pages-per-minute copier.
The scan speed matters, especially for legal offices or accountants who have a lot of scanning to do. A rate of 270 ipm means that you would get 270 images per minute. An image would be one side of the piece of paper or the other. So two-sided scanning is a lot faster because it scans both sides at the same time.
Next, the dimensions could matter depending on the physical space you have available.
Paper thickness and size – this matters with the Canon imagePRESS Lite C265 because it determines what paper you can print or not print.
Other accessories available with the Canon imagePRESS Lite C265
Fax
Finishing
Booklet maker
Insertion unit
Advanced scan functionality
Security features
Paper cassette for specialty media like envelopes
Paper deck options to change device paper capacity
The Canon imagePRESS Lite C265 is the little brother to the Canon imagePRESS Lite C270 copier.
The Canon imagePRESS Lite C265 really excels in color quality by having sharp halftones and strong image quality, which can adjust based on printing people or static items.
Also the internal drawer guide helps to keep registration of the paper (where the toner is placed on the print) in alignment.
This copier would compete with the Xerox PrimeLink C9065 and the Konica Minolta Bizhub C650i.  The good news for you is we can sell all three of these and help you decide which is the best for your specific application.
If you are looking for the Canon imagePRESS Lite C265, please get hold of us so a sales rep can show you some of the rich features that could work within your light production projects. We understand each digital printing environment is different as well as the goal. That is why we work to give you data and information, so you can decide what product ultimately is the best fit for you and your company.