Guide to the Best Managed Services for Education
February 5, 2020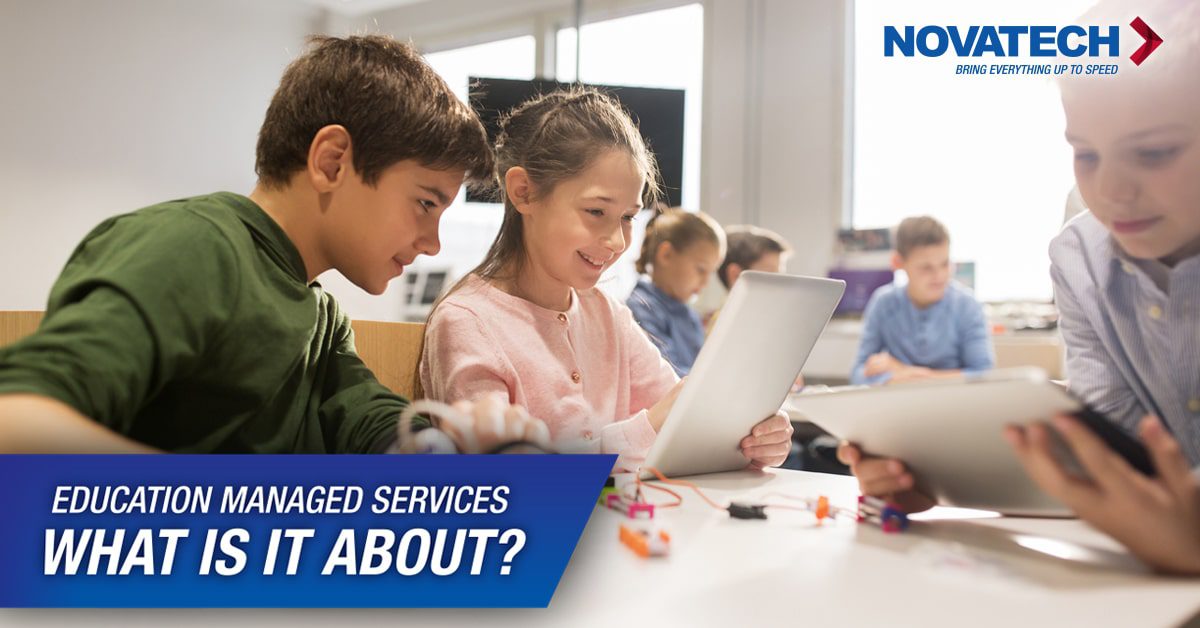 Digital versions of education programs such as MOOCs have been an unexpected global success. Research by Babson Survey Research Group found that enrolment for online remote courses shows year-on-year growth; in 2015, 30% of all U.S. students had enrolled on at least one online course. But it isn't just courses that are being digitized across the education landscape. The digital transformation of the education sector offers innovation in everything from teaching devices to the automation of tedious admin tasks as well as offering apps to parents to keep them informed. But access to, and the costs of EdTech, can be a hurdle in creating the digital classroom.
Here, we look at the challenges of digitally transforming education and how a Managed IT Services (MITS) provider can offer the education sector the helping hand needed to pass the digital test.
The Services Offered by a Managed Service Provider for the Education Sector
Managed IT services are offered to educational establishments and other associated organizations via a specialist IT Managed Service Provider (MSP). The services on offer, cover all things needed to deploy, run, maintain, and deliver first-rate IT services. An MSP also future proofs access to technology by sourcing and working with state-of-the-art solutions on behalf of a client.
To offer world-class IT solutions to the education sector, a Managed Service Provider must understand the challenges inherent in education, these include
Costs: In the U.S. spending on education technology to K-12 reached $13 billion in 2015. But education is a sector that has to budget carefully. Technology adds a burden when delivering cost-effectiveness in the industry. Schools and other educational establishments may rely on one-off grants or similar funding. This means they need to stretch the budget, making prudent spending decisions. Having a cost-effective way to access modern technology solutions is a must-have for the sector.
Specialist technology skills: Many educational establishments do not have the in-house team to manage, often complex, technologies like cloud infrastructures. New tech solutions may require specialist knowledge about software architecture or security to be able to configure the solution correctly. An MSP can offer those skills so that the educational establishment can focus on education.
Student expectations: The general expectation for schools and colleges is one of delivering cutting-edge education that utilizes the best technologies available. For example, excellent Wi-Fi connectivity has been shown to be an essential service for university students.
Security: In recent years, the education sector has been a target for cybercriminals. Ransomware, for example, is a particular issue; in 2019, over 500 U.S. public schools were victims of ransomware attacks. But maintaining a secure environment, especially as students connect to school and university portals via personal devices, can be complex. An MSP also offers Managed Security Services (MSSP) that provide security professionals to work with an organization to detect and prevent cyber-attacks.
Education Managed Services – What is it About?
The education sector has a wide variety of technology needs. Some, or all of them, can be supplied in a cost-effective way by outsourcing those needs to an MSP that understands what educational establishments require. An MSP can offer the following managed IT services (MITS), specially tailored for the education sector:
Managed IT Support
An MSP provides ongoing 24/7/365 support for technical issues across your extended network. This typically includes help desk and on-site support wherever and whenever needed. MSP support can also include training and help for your internal IT team. Managed support services offer an educational establishment peace of mind.
Managed Security Services (MSSP)
Providing robust solutions and overseeing security strategy for your organization, the security services offered by an MSP can ensure the use of modern, data-led technologies, including cloud computing and mobile devices, are more secure. An MSP will ensure that all of your sites can utilize state-of-the-art security protection tools, including Endpoint Detection and Response (EDR) solutions, to monitor and protect against phishing and malware.
IT Solutions and Expertise (MITS)
An MSP offers tailored pricing models that fit your needs. This includes flexible scalability, for example, only paying for storage as you use it. MSP's can give educational establishments access to enterprise-grade solutions, that are always kept up to date, at a very cost-effective price. An MSP also only employs experts in their field. Anyone using the services of a managed service provider will have access to this expertise.
A Managed Services Provider (MSP) offers the education sector a way to have an 'always-on' IT team at a cost-effective price. Providing specialist knowledge in the areas of security, an MSP will ensure that your establishment is protected against cyber-threats. An MSP will also provide the most robust and up to date experience in technology for your students and staff, giving your establishment an important competitive edge.