Introduction: Managed Office Services for Financial Organizations (Part 1)
October 21, 2022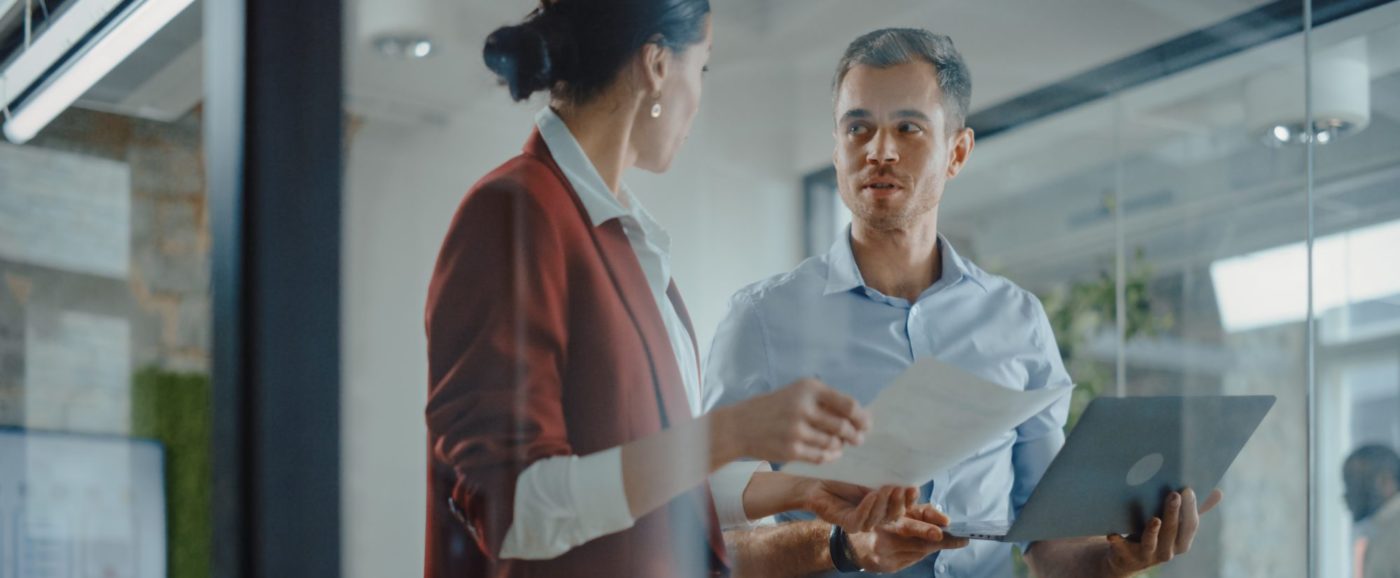 Across the financial sector, companies have adopted Managed Office services to meet a variety of routine and industry-specific business needs. 
Using a real-world example of a large, regional financial enterprise, this two-part guide introduces Managed Office Services to IT management, business leaders and other professionals in the financial world. The strategies and best practices covered here lead to better understanding of the opportunity for your financial services company.  
What Outsourcing Services Are Available to Financial Firms? 
Printing related – printers, multifunction devices, scanners, faxes 

Network  

Cloud  

Security and compliance  

IT services  
What Does the Guide to Managed Office Services Cover? 
This guide offers ideas and answers questions about how to introduce and justify managed services in your own financial firm. You'll find:  
Highlights of one financial company's managed office journey 

3 things financial firms need most from a managed office partner 

Branch conversions as managed services for financial firms 

Biggest obstacle to managed services for finance 

4 ways managed services remove business pain, add business value
In Practice: Managed Office for Financial Services 
Many types of financial operations benefit from Managed Office Services, including: 
Commercial and consumer banking 

Wealth and trust management 

Retail brokerage firms 

Mortgage firms 

Title insurance services 
This story, based on actual customer experiences, paints a picture of what a rewarding managed services relationship looks like for a large regional banking business. The bank has been a Novatech client for years because of the consistent support and our ability to grow with them in new directions. This guide uses experiences of an actual financial services customer to paint a picture of the Managed Office in action. 
This is the journey of the evolving relationship through the lens of various high-value outsourcing solutions: 
Strategic technology reviews to uncover needs

Print management software  

Branch conversions process 
With these jobs now outsourced, the company doesn't need to invest in permanent internal resources or tech stack to implement and maintain these capabilities, yet they are always available and in top form. 
Maybe you can relate. Multi-state, multi-office financial services businesses have unique technology challenges. As your business technology evolves, so must its stewardship to keep your company relevant and competitive. It's the job of a good managed services partner to lead the way, keeping systems and protection up-to-date and keeping your business inside the guard rails when it comes to security, budget and compliance. 
Where It Started: Overwhelmed Staff
Financial services cover a broad swath: banks, investment houses, lenders, finance companies, real estate brokers, and insurance companies, but all have one thing in common. Financial products like accounts, loans and investments generate voluminous digital and paper documentation, and security and compliance are non-negotiable.  
Paper was part of the problem for this long-term Novatech customer. The relationship goes back many years, and as often happens in managed services, it began as a print-only engagement. Two main issues led to the bank engaging with Novatech.
1. Staff Overwhelmed by Printer and Copier Management
First, bank staff responsible for printers were simply overwhelmed. They had many more print assets than they realized and needed a plan to: 
Reduce total device count 

Eliminate unnecessary cost 

Increase feature availability 

Drive consistent user experience
2. Bank Leaders Acknowledged Skills Gap and Need to Outsource
The second issue was about knowing your strengths and weaknesses. Although printers and copiers have long been fixtures within the work environment, managing these intelligent assets wasn't a core competency bank employees possessed. Bank leadership recognized the right partner could run this portion of their business better than they could. 
3 Things Financial Firms Need Most from Managed Office Partner 
What this bank values about working with a Managed Office services team comes down to these three core areas. If you're exploring managed services for your business, note which providers bring these capabilities to the table every time: 
1
Valued Partner
The partner brings value — It's basic, but important. The more a managed services provider can save or make money for you, the more reason to stay with them. The more they keep your phone from ringing with problems, the more valuable that partner becomes. 
2 Strategic Guidance
The bank values strategic guidance in areas where they recognize they don't have the skill or background to make good decisions. Management doesn't want passive vendors who just do what the bank says. We challenge this customer when we see an issue. Not only do they appreciate that, they expect it. When it comes to things like print management, they know we understand that portion of their business better than they do.   
3 Print Management Outsourcing
For this financial services business, our strong print management skills and tools made a huge impact. "They came to us and said point blank, we don't do this print thing. It's not our business. We do banking. You guys are the experts. You do the print," explained a long-time member of the Novatech account team. 
Confident Tech Outsourcing Based on Trust Earned Over Time 
The bank eventually became so confident, they now outsource everything about printing to their trusted managed services provider. Even with something so vitally important to their business, they felt Novatech had proven we could do it better than they could, and turned print management over to us. At the same time, they reminded the Novatech team that the bank had high expectations. 
This bank now has hundreds of devices under management with Novatech, supported by print management and cost recovery software. We provide: 
Printer and copier assets 

Fax and scan capabilities 

software to manage traffic on those devices  

software to enforce rules related to print traffic 
We understood what this financial business wanted — value, guidance and print management —  and kept those capabilities at the forefront of the relationship. Through proactive and regular communications, the firm's priorities stay front and center.  
Branch Conversion as Managed Service
As the relationship grew, another financial-related service was added that continues to bring value — outsourced branch conversions. It's no secret the banking industry expects an active M&A period ahead. It's been hard for banks to grow revenue organically, and some have turned to acquisitions to pick up accounts and assets. 
Scaling these moves without too much disruption, redundancy and waste will become a business advantage. Our relationship with this regional bank now includes branch conversion services to solve some of the problems. We remove the pain from ongoing consolidation and reduce office asset waste. 
Our Novatech solutions expert explains: 
When a financial company acquires a bank or credit union or similar organization, one of the things they often need to do is shut down redundant facilities. If current and acquired branches are in the same market, the new organization won't need both locations.  
We help the bank close one branch and repurpose assets from the other bank, where applicable, and push those usable assets into the chosen location. We actually go into their banks and identify assets that can be repurposed. In the past, we stored repurposed assets within our facilities for rapid redeployment based on specific need. We have a process to safely dispose of assets that have to go away.  
We also strategize with their key team members at least weekly on where we are, what we're doing and what we need to do next.
Branch conversion might not be a capability normally associated with an IT company, but in this situation with a regional bank, it shows the value of nurturing a relationship and uncovering solvable technology needs. 
Part 2: More About Managed Office Services for Financial Firms
Next week, catch Part 2 in this series on managed services for financial firms. "Proven Process: Right Managed Office for Each Financial Business" explores building trust, technology reviews, and four ways managed services remove business pain and add business value.