Novatech Embarks on a Strategic Partnership with Exium to Reinforce Cybersecurity for Managed Services
August 29, 2023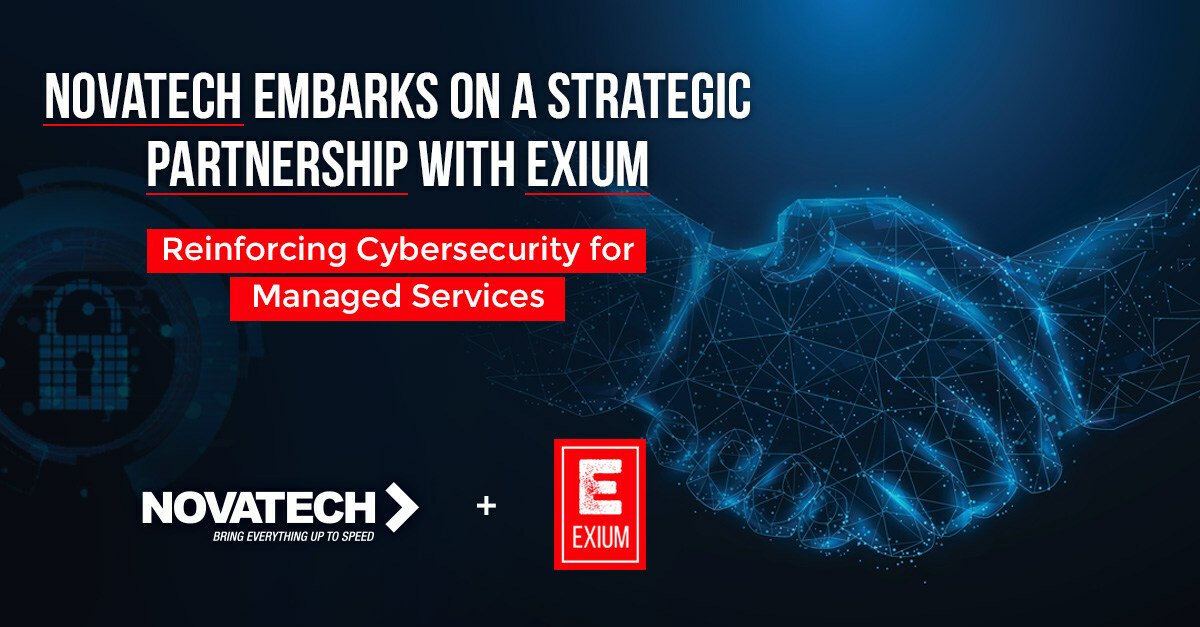 NASHVILLE, Tenn., Aug. 29, 2023 /PRNewswire/ — Novatech, the nationwide Managed Office provider, is proud to announce its strategic partnership with Exium, a leader in SASE cybersecurity tailored for SMBs and mid-market clients via Managed Service Providers (MSPs).
This alliance strongly augments Novatech's cybersecurity capabilities, doubling down on its unparalleled security solutions for its nationwide customer base.
A Perfect Union: Novatech & Exium
This significant collaboration aligns seamlessly with Novatech's mission to deliver advanced managed office solutions on a national scale. Exium's expertise, notably its zero-trust platform, will enrich Novatech's service spectrum, ensuring secure connections between users, locations, and devices to applications, whether located in cloud environments or data centers.
A New Dawn in Cybersecurity with Exium's Innovation:
Exium's platform stands distinctively apart from conventional security tools. Instead of merely piecing together different products and labeling it as SASE, Exium offers a fully integrated, cloud-native platform, designed with modern security standards such as zero-trust. Their contribution to entities like the US DoD, securing 5G mobile and satellite networks for military operations, is a testament to their unparalleled proficiency in the field.
Words from Novatech's President and CISO
Dave Moorman, President and CISO of Novatech, expressed, "Our alliance with Exium marks a pivotal evolution in Novatech's trajectory. Exium's forward-thinking approach to cybersecurity and its proven track record, particularly with bodies like the US DoD, resonates with our vision for a total Managed Security approach. Together, we aim to elevate the industry benchmarks."
Billy Turner Shares His Perspective
"In the evolving landscape of digital threats, it's imperative to stay ahead," stated Billy Turner, Novatech's VP of Managed Technology and Security Operations. "Exium's platform resonates with our commitment of adopting only the best for our clients. This partnership is a testament to our dedication to excellence in service and security."
Comments from Exium's Leadership
Tyler Smith, EXIUM's VP of Channel, remarked, "This collaboration with Novatech is more than a partnership; it's a union of shared goals and visions. We at Exium are thrilled to integrate our expertise with Novatech's profound presence in the managed services domain, paving the way for a more secure digital landscape."
About Novatech – Established in 1998, Novatech, Inc. is a nationwide business technology provider. The company continually strives to streamline the technology experience for businesses today, eliminating the need for multiple managed service providers, hardware dealers, and software integrators. With an expansive Managed Office portfolio, Novatech remains at the forefront of the industry. Discover more at: www.novatech.net
About Exium – Exium stands as a pioneer in delivering SASE cybersecurity to SMB and mid-market audiences through Managed Service Providers (MSPs). Their innovative zero-trust platform is renowned for providing security solutions that exceed compliance requirements and enhance overall security infrastructure. Exium's platform represents the zenith of contemporary security standards. Learn more at: www.exium.net