uniFLOW
Novatech presents uniFLOW, an all-in-one solution for handling all your print, scan, and device management needs for companies where productivity and efficiency are the main goals of the business. Whether your company prints in the office, on the go, or in production print, uniFLOW is the key to unlocking potential efficiencies.
The best thing about uniFLOW is that it has a single tool that handles all of your office printing needs, whether they are on-premise or in the cloud. At Novatech, we are very proud to offer uniFLOW to our clients, and we are sure that they will get the most out of using this innovative option.
What is different about uniFLOW?
Cost Control: Gone are the days when costs were hard to understand and budgets went over. With uniFLOW's built-in tracking and reporting, you'll be able to see exactly how much you're spending and be notified if your costs start to go in a different direction.
Enhanced Security: In industries where strict security is a must, uniFLOW strengthens the security of your documents by letting only approved devices and users access them. This makes sure that your private documents never end up in the wrong hands. Secure print can be enabled to fortify your security to a greater extent.
Productivity Boost: Cost and security restrictions often make it hard for users to do their jobs well, but uniFLOW breaks the pattern. By letting you print anywhere you need to print, we're making you more productive and speeding up your operations.
Sustainability: uniFLOW doesn't just make a good print system; it also promotes being environmentally friendly. By setting up print rules and keeping an organized print environment, uniFLOW helps you use less paper, which is good for the environment.
With uniFLOW, you no longer have to worry about how to manage different systems. One setup takes care of print drivers, users, print rules, and job control in the production room, so you can focus on what really matters: the growth of your business.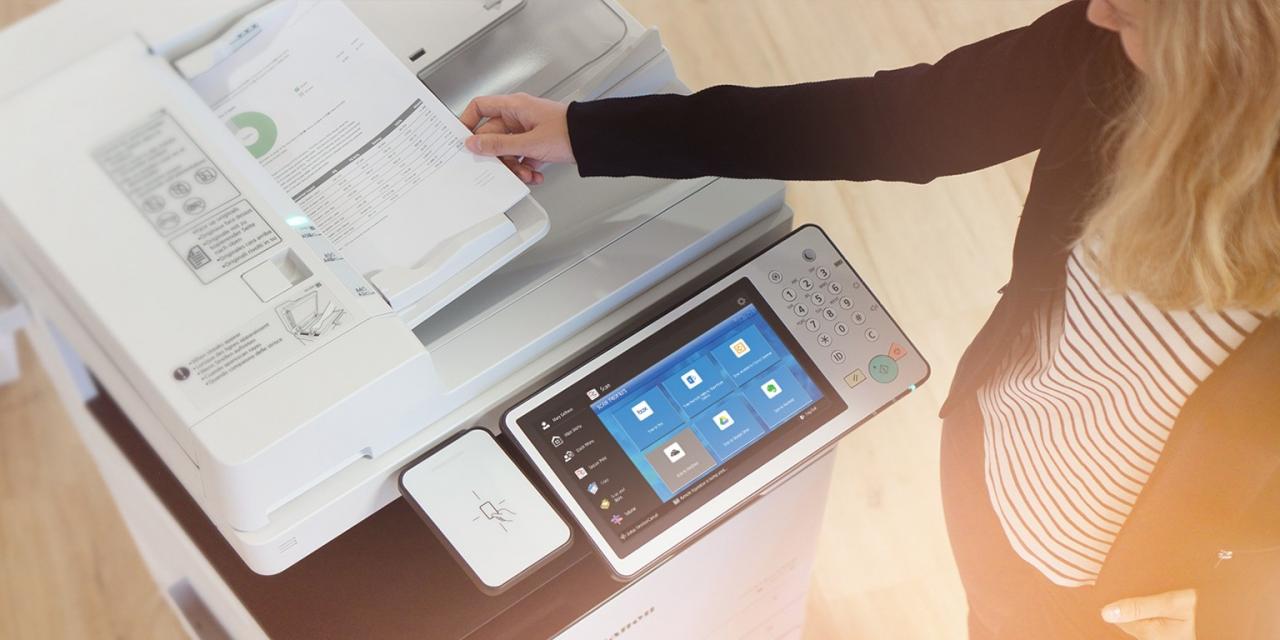 uniFLOW and many industries work well together
Here are some of the more popular industries we sell uniFLOW to:
A good example of working together: Google and uniFLOW
The relationship between uniFLOW and Google stands out in the print management space. This partnership makes sure that uniFLOW works well with the whole Chrome enterprise line, including the Chrome OS infrastructure for printing, which is a very important tool for our users in government and education.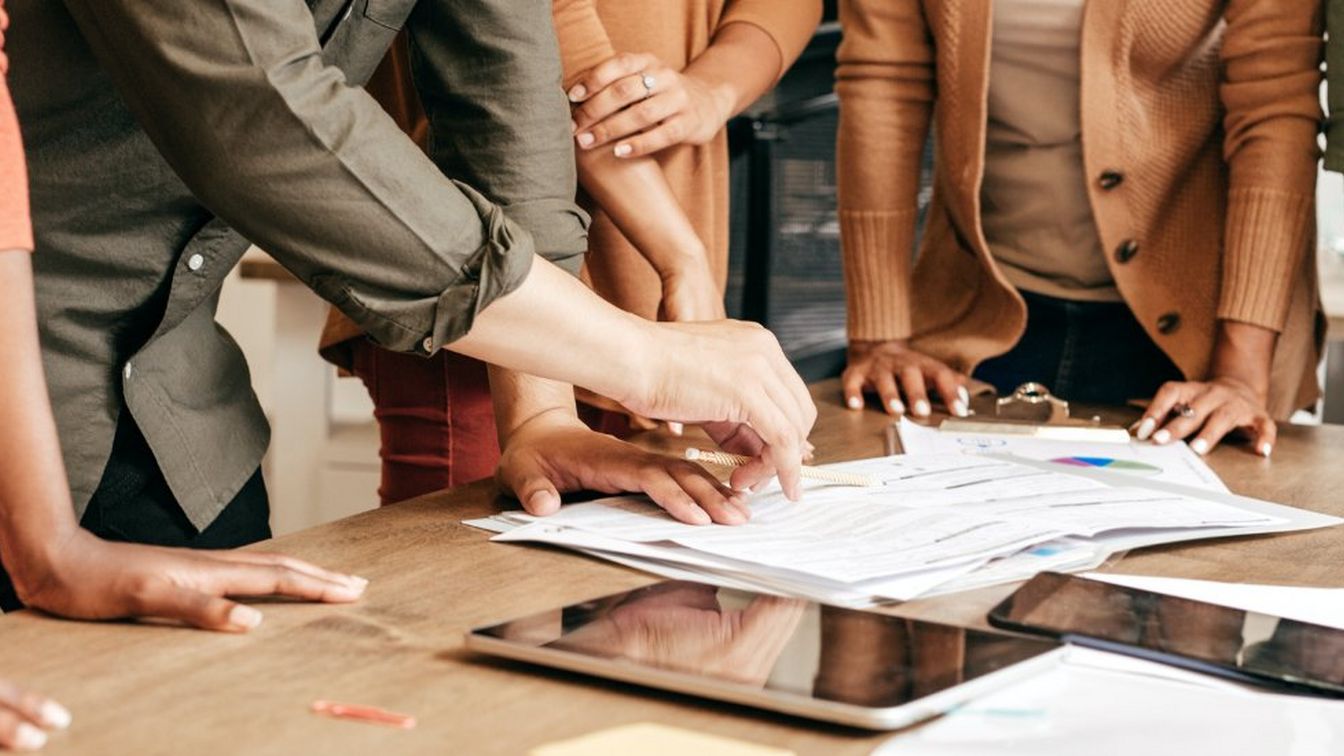 uniFLOW and production print
uniFLOW can improve your production print team's efficiency by simplifying some of these routine processes.
Job submission: rather than getting ambiguous directions, your team will get standardized and rules-based instructions to make it clear what is needed.
Centralized management: You can easily print by dragging and dropping job files into print queues or sending each one to a device. The settings on the job tickets are instantly matched with the settings on the printer. Since operators don't have to do anything by hand to finish orders, operator performance is better and print room productivity goes up. All print jobs can be saved so that they can be found and printed again later.
Your future with uniFLOW
Think about a world where you don't have to worry about how to print, scan, or handle your devices. Are you ready to get back in charge of how your office handles print jobs? Do you want to ensure there is device authentication or cost center reporting? Do you want to make rules, policies, and limits when they're needed? uniFLOW is the answer you've been waiting for.
uniFLOW is reliable, strong, and ready to help you manage all of your devices from a single, easy-to-use platform. Let's get started on this trip today. Contact Novatech to get more information on this solution and to see how we can help your company become more productive and cost-efficient.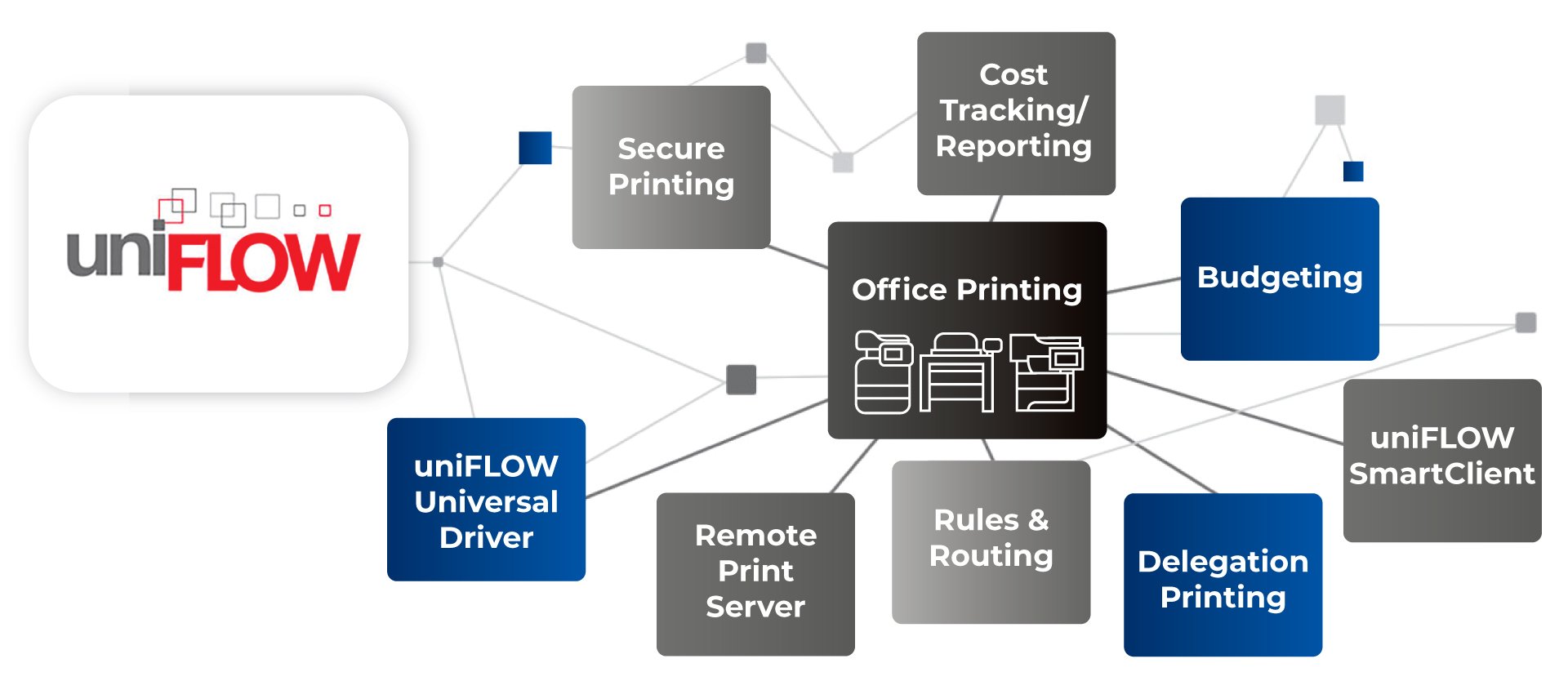 FAQs
Absolutely. uniFLOW is a tool that works with Canon, HP, Konica Minolta, Lexmark, Xerox, Brother, and many other well-known brands. uniFLOW is more commonly associated with Canon devices, but works across many brands. Contact us to find out if your copier or printer will work.
If you want to understand uniFLOW, a picture is worth a thousand words. We found a flow chart that shows how uniFLOW takes care of all your printing needs.
uniFLOW stands out because it has a complete, all-in-one platform. Other print management options may require multiple systems or platforms, but uniFLOW simplifies the process by giving you a single system for all your printing, scanning, and device management needs. Rather than having to install separate drivers in order to print to different devices, uniFLOW allows your team to centralize control of every print job.
Plus, its unique relationship with Google makes sure that all of the Chrome enterprise products work together smoothly. Google cloud print is often popular with education customers or enterprise clients.
Yes, uniFLOW is made to work well with the IT systems you already have. It can be set up either on-premise or in the cloud, depending on what your organization wants. It can also work with a wide range of famous device brands because it works on multiple platforms. uniFLOW has both on-premise and uniFLOW online versions.
Remove Process Friction. Make Teams More Productive.
Let's
Talk