6 Things Managed Services Can Do for Your SMB
August 9, 2018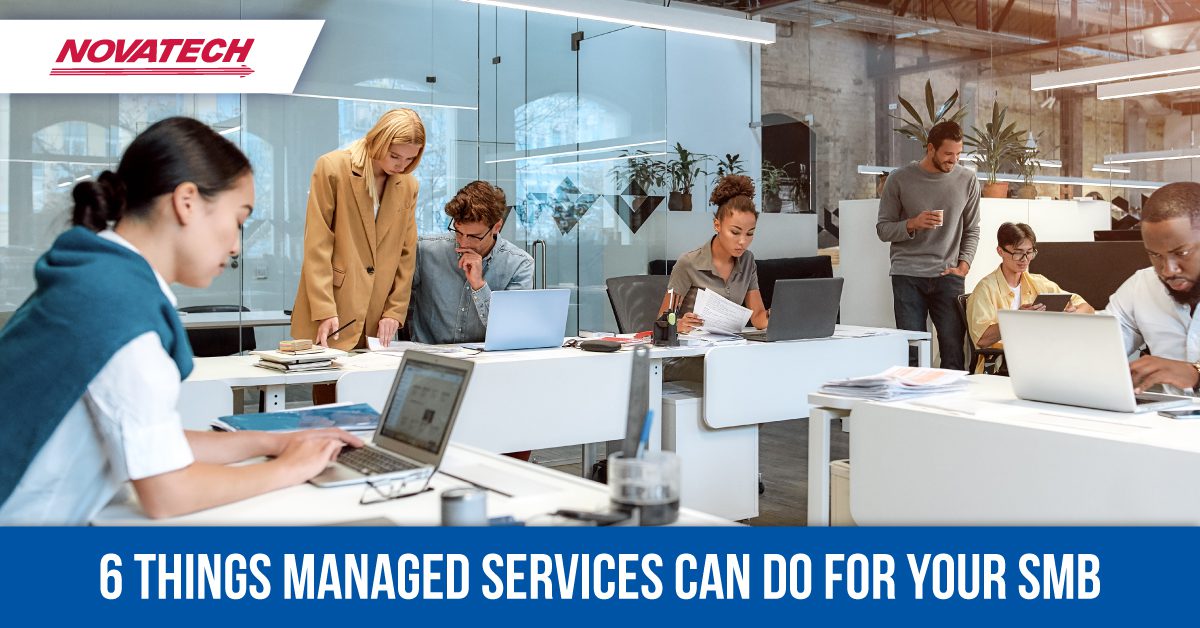 There's a fable that is often attributed to Aesop:
A small community of mice lived in the same home where there was also a cat. The cat was a skilled hunter, and the mice were afraid for their lives. But a clever, young mouse had a solution.
"We should tie a bell around the cat's neck," the young mouse said. "Then we'll hear her coming and we can hide before she finds us."
The other mice readily agreed that this was a good plan, until the oldest mouse in their community raised a weary paw.
"That is a fine plan," the old mouse said. "I see only one problem. Who will bell the cat?"
Belling the cat.
All too often, the problem with good ideas isn't finding them. It's implementing them.
Like belling the cat, the best IT strategies in the world won't do you any good if you don't know how to make them a reality. That's why you need managed IT services.
Stuff that works.
Legendary author Douglas Adams once said, "We are stuck with technology when what we really want is just stuff that works."
Running an SMB is fraught with tough choices. What do you tackle on your own? When do you turn to experts for outside help? What's the ROI of keeping things in-house versus outsourcing?
When it comes to the things you truly rely on, like your technology, you can't afford to take chances. Even short periods of downtime cut into your productivity, hamper customer relations, and sap the enthusiasm from your employees.
You need the best possible performance from your network. But . . . who's going to bell that cat?
6 ways managed services help.
We have a solution. Instead of handling all of your IT solutions yourself, call on the support of a managed services provider. There are several reasons why that's a smart move for any SMB leader.
We even made a list.
1. The beauty of a proactive approach.
Why wait for something to break to fix it? A managed services provider can proactively keep an eye on your network 24/7. If there are early warning signs of an issue, they can deal with it then instead of waiting until it slows you down.
2. Support when you need it.
Of course, some issues pop up without warning. When they do, who do you call? A managed services provider is there at all hours, ready and willing to step in with the solutions you need when you need them.
3. Security, security, security.
There's no shortage of cyber crime. Recent headlines about ransomware attacks and data breaches don't just spell trouble for huge companies. Small businesses are at risk, too. A managed services provider can help you take steps to mitigate those risks.
4. Just in case.
Even well-protected networks experience disasters – big things like successful cyber attacks and acts of God, as well as less spectacular interruptions like power outages and human error. A managed services provider can give you a plan for bouncing back from any incident.
5. The best possible IT solutions.
Technology is constantly changing. The solutions that work today will be outdated next year. Or next week. A managed services provider can help you keep pace with the best IT options for your business, making sure you always have a cohesive, smart technology strategy.
6. Sharpen your focus.
With your network in good hands, you're free to focus your attention elsewhere. Grow your business, or cultivate better work/life balance. Your managed services provider will help with any IT hiccups so you can concentrate on what matters to you.
Managed Services with Novatech
The experts at Novatech take managed IT services seriously. We know what it takes to support SMBs and we've been doing it successfully for years.
Plus, we see the full picture. Running a business isn't the only thing you do, and keeping your network online isn't your only priority. We want to help make you a success in every way we can. Perhaps that's why working with us is a unique experience.
We truly care.
If you'd like to learn more about managed services with Novatech, feel free to give us a call at 770.569.4600 or at novatech.net. We'll be happy to explore how our managed IT support can help you meet your goals.