Changing Outcomes; Protecting Patients for an Electronic Health Records Firm
May 11, 2020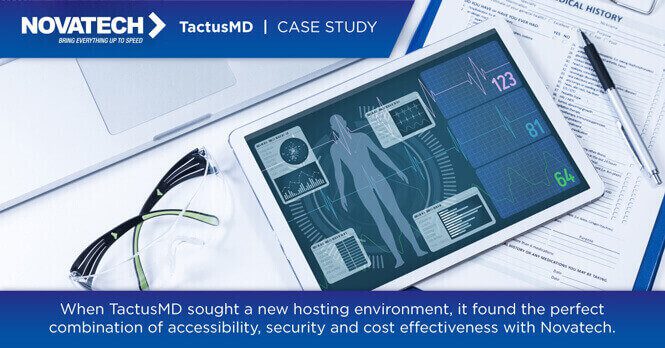 With the National Institutes of Health having announced that "[Electronic Health Records] would lead to a substantial empowerment of patients," there's little doubt the medical community recognizes the potential value of EHRs. Yet, the technology is still evolving, and not all EHR companies have reached the same level of sophistication.
One that rides the cutting edge is TactusMD, Inc., an EHR firm that wanted to offer its doctor-clients a workflow-based solution for creating and retrieving patient data. To allow flexibility of use, the EHRs needed to be highly accessible to authorized individuals.
The only way for TactusMD to leverage such a solution, given that personally identifiable information (PII) was involved, was to have an ultra-secure hosting environment. TactusMD found the optimal combination of accessibility, security, and cost-effectiveness with Novatech.
"From a security and reliability standpoint, we wanted to bring everything into a single datacenter," said TactusMD CEO Dr. Anthony Mari. "I had met Dave [Moorman, Novatech's President of Managed IT Services] and had heard great things about Novatech's service organization. They are personal and professional, and that is the way I like to run our company. Dave worked with us to help architect the type of hosting solution we knew we needed to ensure success for our business."
At the time, TactusMD was in the process of developing a web-based application, and Novatech also ensured the firm had the right foundation as it made that transition. "It's a matter of attending to the right things," said Mari. "We needed an environment to be stable as we were a developing company and preparing to scale. We started with a few servers and the relationship just grew."
Novatech published a case study that outlines the entire project – and illustrates how much can be done to support EHR technology. We invite you to read it, here.