How a Cloud Solution Can Drive Success in Your Business
January 10, 2023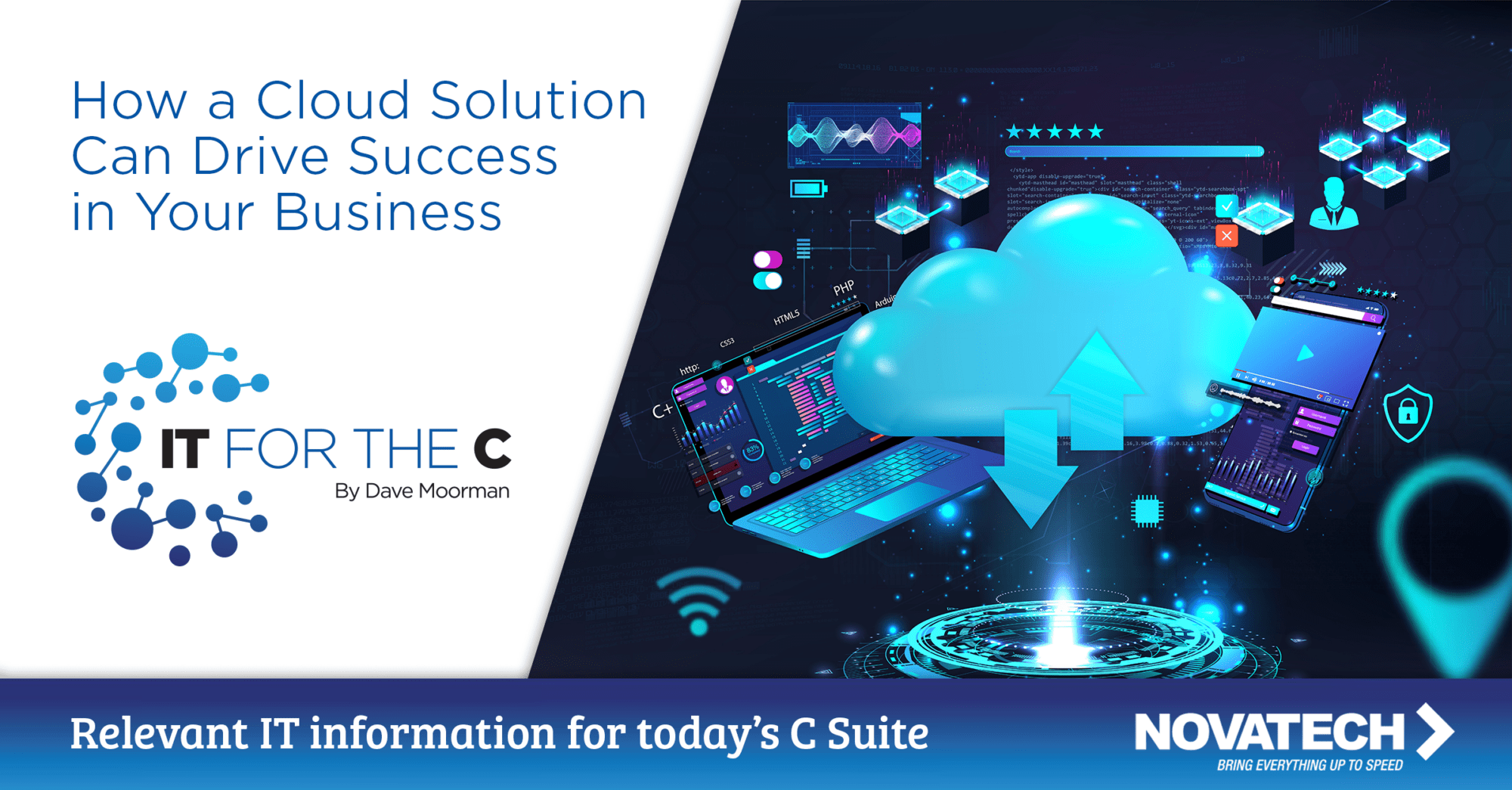 Cloud computing has been around for about two decades, and despite strong data pointing to its business efficiencies, cost-benefits and competitive advantages, I speak with many business leaders who are still hesitant to adopt it fully. While I understand the need to ensure solutions are "ready for prime time" before a company goes all-in, I urge them to change their mindset.
Despite 94% of organizations having used some form of cloud services in 2022 — with cloud adoption still growing — many businesses are not realizing the full promise of the cloud. As a pioneer in cloud technology, and a strong proponent of its value, Novatech has long been committed to helping its clients get the cloud "right." That means more than a successful deployment. It involves simplifying cloud computing and making it accessible at every level of the organization.
As with all of its solution recommendations, Novatech looks to ensure its clients implement the right combination of technologies and Managed IT support. Specifically, it seeks to ensure business leaders gain the core business drivers that propel the success of any firm — greater business availability, security, and mobility. What we call ASM.
At the same time, this success must not come with an excessive price tag. Rather, it should lower total cost of ownership, increase employee productivity and minimize corporate risk — an impressive "benefits package" for any business.
The Rationale Is Solid; the Value Is Real
Capitalizing on cloud computing increases your business security and availability while eliminating the expense and complexity of maintaining a lot of onsite IT infrastructure. While these benefits are impressive, choosing a solution that is purpose-built to provide an exceptionally efficient, user-friendly cloud solution increases the value even more.
As a firm continually seeking to help its clients innovate, we have recently identified a superior cloud computing service for a variety of environments — Microsoft Azure. Developed, designed, and maintained by Microsoft in 2010, it helps businesses validate and attain their cloud goals while overcoming challenges. It is a fully flexible IT solution, providing the freedom to build, deploy and manage most if not all of a business's applications.
Furthermore, Microsoft Azure is supported by a global data center infrastructure to ensure maximum operating continuity and security. Continual development and innovation, paired with a worldwide infrastructure network, enables Azure to provide benefits that are fundamental to cloud security. It incorporates multilayered, built-in security controls across physical datacenters, infrastructure and operations with cybersecurity experts actively monitoring to protect your business assets and data. It leverages unique threat intelligence to help identify and protect against rapidly evolving cyber security threats.
Perhaps most importantly in our "always on" world, organizations and their teams require on-demand access to solutions that drive their productivity. Azure is a proven performer in this area, and our solution recommendation.
It simplifies cloud computing for those currently attempting to run a cloud environment in-house.
It makes it easier and faster for companies to achieve their transition to the cloud.
It reduces costs and complexity for maintaining a highly secure cloud data center.
The Azure cloud platform encompasses more than 200 products and cloud services designed to help your business bring new solutions to life—to solve today's challenges and create the future. Once implemented correctly, you can build, run and manage applications across multiple clouds, on-premises and at the edge, with the tools and frameworks of your choice.
We continually explore Azure enhancements to evaluate all the capabilities in the platform and have identified some "extras" that make it even more attractive to business leaders and their teams. These include:
Azure Arc, a "bridge" that extends the Azure platform to help organizations build apps and services with the flexibility to run across datacenters, at the edge and in multi-cloud environments. It enables them to develop cloud-native applications with a consistent development, operations and security model, giving them the flexibility to run them across their existing datacenters, edge and multi-cloud environments.
The Microsoft Intelligent Data Platform, a single platform for databases, analytics and data governance that adds layers of intelligence to Microsoft Azure.
The Final Analysis
So well-respected (and adopted) is Azure that 95% of Fortune 500 companies have implemented it at some level. Globally, Microsoft Azure is the top cloud services provider. Some of the world's most respected companies, including global consulting firms like Deloitte, are "future proofing" their operations with Azure. (Deloitte built a scalable solution on Azure that can survive repeated outages).
As important as it is for us to provide the right cloud solution for a company, it is equally important that the implementation allows a business to remain fully operational when extending Azure to on-premises, multi-cloud, and edge environments. Novatech was an early adopter in this area — helping our clients not only with these achievements but also with such imperatives as security and compliance. We have also assisted savvy business owners move from a "let's test the waters" attitude to fully embracing cloud technology.
This doesn't look the same for everyone. Our experts meet you where you are, so you can blend your own enterprise and operational edge investments with Azure's global infrastructure to leverage the best Azure has to offer—on your own terms.
Whether you're just getting started with cloud migration, ready to optimize existing investments, or looking to reinvest your savings and maximize innovation with cloud-native technologies, we're here to help you make it happen. Our commitment is to be the cloud partner you can trust along your entire cloud journey, helping you build agility, optimize your business and create data-driven experiences. To learn more about how Novatech is leveraging cloud services to help its clients (and Azure specifically, please reach out). I have many more insights to share about Azure and the benefits it can provide your firm.
I invite you to call Novatech at 866-488-2024 or send me an email at dave.moorman@novatech.net to discuss your situation further.
Sources:
https://www.forrester.com/surveys/forrester-analytics-business-technographics-r-infrastructure-survey-2021/SUS6772
 https://www.extremetech.com/deals/307468-microsoft-azure-is-used-by-95-percent-of-fortune-500-companies-learn-to-use-their-cloud-services-now#
https://www.statista.com/statistics/1224552/