How to create a more data-driven IT strategy
March 30, 2020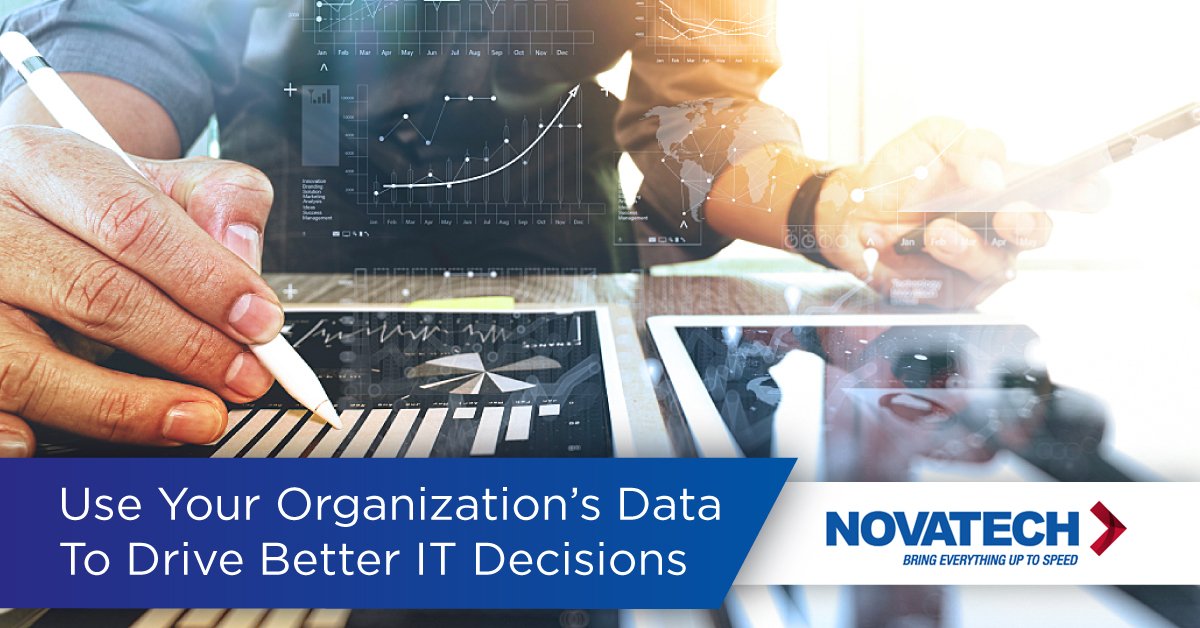 As an IT professional, much of your job revolves around managing data: collecting it, preserving it, protecting it, and ensuring that everyone at your organization has access to the right amount of it. But sourcing data, distilling it, and teasing out relevant insights may require more time and effort than you can spare.
Fortunately, thanks to recent innovations in IT analytics and the power of automation, it's become much more feasible to quickly and easily access the data you need to inform your IT strategy. Tapping into these insights can take the guesswork out of major decisions, help you identify and eliminate inefficiencies, and foster more proactive approaches to upgrading equipment and stopping cybercrime.
Here are a few ways you can use your organization's data to drive better IT decisions:
Explore equipment performance and boost efficiency
Do you have a problematic printer? Is a particular piece of equipment consuming far more than its fair share of bandwidth or reaching the end of its lifecycle and becoming less reliable than before? In most cases, you may have to wait until you receive a user-generated ticket to discover something isn't performing as expected. And by then, it's likely already working against your organization's operational efficiency. Instead of waiting for the signs of inefficiencies, you can tap into technology like an IT infrastructure monitoring tool (ITIM) to identify how various assets are performing, whether it's on-premises or off-site.
You can also leverage HP Device as a Service (DaaS), which allows you to quickly identify issues tech issues and optimize device performance to increase user uptime. For example, DaaS allows you to analyze device CPU and memory usage so you can identify whether any devices are too powerful or not powerful enough for their functions. If a device is under-utilized, you can reallocate it to another area or department where there's a greater need.
Eliminate vulnerabilities and reduce risks
Easier access to more sophisticated data can also help you keep your environment secure. Because every device on your network is another point that cybercriminals can attempt to exploit, it's essential you're aware of each connected asset and whether it's adequately protected.
Reliable asset management can help you keep track of all of your organization's hardware and software and quickly identify shadow IT or anything else that's out of place. Access to this sort of data can also help you determine whether something is becoming outdated and needs to be upgraded or replaced before it becomes a security hazard.
Additionally, managed services can tell you the virus protection status of each device within your network. That way, if a device's protections are out-of-date, you can remedy the situation before it becomes a problem. After all, even if you're dedicated to the best security practices at the organizational level, just one unsecured piece of equipment in your environment can be an open door for cybercriminals.
Reduce costs and improve IT budget spending
As an IT leader, you're always charged with defending your spending to senior stakeholders and working to secure funds to bolster IT operations. Because people outside your team don't always understand the importance of each piece of tech, it is often challenging to explain the value of your investments. Having access to detailed data can make it easier to justify your expenditures, improve your IT strategy, and allocate money where it's most needed.
HP Managed Print Services (MPS) can help you streamline your printing workflow, control costs, and automate printing processes to reduce inefficiencies. For example, single-sided printing is wasteful and can quickly consume significant amounts of paper, but employees often forget to choose the double-sided option before submitting a job. By adding automatic duplex printing through managed printing, you can curb this waste.
You can also access customized reporting to help you make smarter, data-driven IT decisions and prove the worth of your investments. IT pros know the importance of data better than anyone, but analyzing large data sets to gather the right insights for your IT strategy is something you rarely have the time or energy to accomplish. By leveraging the right solutions, you can access exactly the information you need to make the right decisions and help increase efficiency while saving your organization money.
Contact the Managed IT Specialists at Novatech to help you create a more data-driven IT strategy
Novatech is a proud Premiere First Managed Print Specialist