Managed Print Services and HIPAA: Achieve Painless, Productive Compliance
March 16, 2021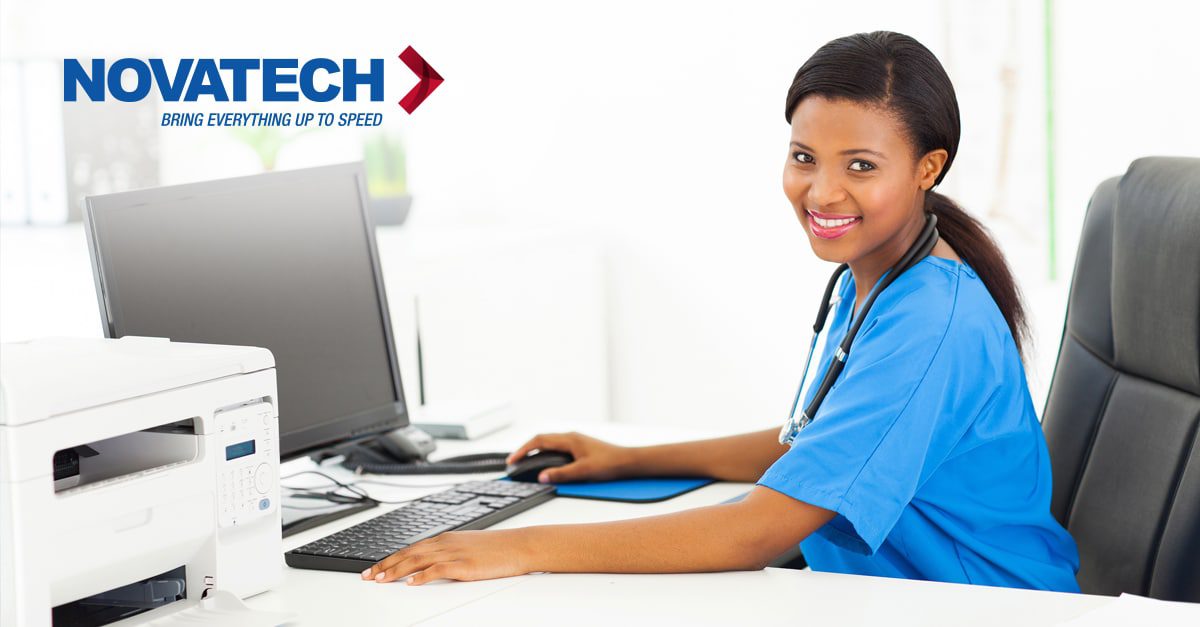 Nearly everyone involved in healthcare, from doctors to hospital staff, office managers and beyond, is aware of the mandate for HIPAA compliance. Yet not all healthcare industry leaders understand how easy it is for staff and management to inadvertently violate HIPAA. This often happens through lax technology practices. While the imperative for securing sensitive data on computers, software and the network has been widely publicized, one aspect of technology often overlooked is printing and copying.
These two functions are fundamental to healthcare operations and they can easily expose organizations to HIPAA violations with very large fines. A prime example was the Affinity Health Plan , Inc. settlement, where the organization paid $1,215,780 for potential violations of HIPAA Privacy and Security Rules. The activity that netted them this penalty was impermissibly disclosing the protected health information of up to 344,579 individuals after returning leased photocopiers without first erasing the copier hard drive data.
This lax behavior was likely an oversight, but data security is a serious problem for healthcare organizations. Per the 2020 Verizon Data Breach Investigations Report, data breaches of healthcare industry firms were up more than 170% over the previous year. Many healthcare leaders may think the likelihood of a data breach in their organization is low, or that equipment such as copiers and printers are considered insignificant by regulators, but nothing could be further from the truth.
As was borne out by the Affinity settlement, the U.S. Department of Health and Human Services (HHS) does not hesitate to cite companies for violations of HIPAA, and the penalties can be significant.
Investing in Compliance with Managed Print Services
Managed Print Services, where a third-party provider helps organizations select, manage and optimize their printers, copiers and multifunction devices, is a great option for firms seeking to reduce their exposure to potential HIPAA violations. The cost of working with professionals for Managed Print Services and solutions pales in comparison with HIPAA fines, and that is before auxiliary losses, such as reputational damages, are considered.
Furthermore, seasoned Managed Print providers such as Novatech work proactively with healthcare organizations to develop, implement and optimize a comprehensive print strategy that also helps reduce maintenance and consumables expenses, boost employ productivity and increase the ROI on technology investments. Specific elements of such an offering can include:
Secure Document Management
Plan for and adopt printer and copier security best practices, including:
Choose secure locations for equipment.
Implement access control and print/copy authorization.
Enable digital signatures, watermarking and auditing to demonstrate compliance.
Set up on-demand printing at the equipment station rather than from a desk, with a secure print release feature that confirms the correct user is physically at the device.
Cost-Reduction Strategies
Identify and implement value-add services, such as:
Enact electronic document management (scan into printer, then route rather than copy or fax) to reduce paper and toner usage.
Plan for automated, just-in-time toner cartridge delivery to boost productivity while reducing waste.
Track printer and copier activity by device and employee to identify and eliminate unnecessary usage.
Technology Management
Extend technology value by maximizing efficiency and minimizing risk:
Clear hard drives on a scheduled basis, when conditions necessitate to reduce regulatory and financial exposure, and/or before equipment is taken out of service, sold to another company, or otherwise removed from the firm's control.
Upgrade equipment before it reaches its functional end of life to make expenses predictable and eliminate rush purchase authorizations.
Establish optimal equipment maintenance cycles for longevity and cost control.
With a Managed Print Services provider overseeing the full spectrum of print and copy activities, organizations gain confidence that they are meeting their HIPAA compliance goals and much more. Our complimentary print assessment will enable us to explore your business, your print strategy and your future aspirations. With these elements confirmed, we will work proactively to help you develop, implement and administer a Managed Print program targeted specifically for your firm.