Migrating to the Cloud: Public, Private or Hybrid?
April 27, 2021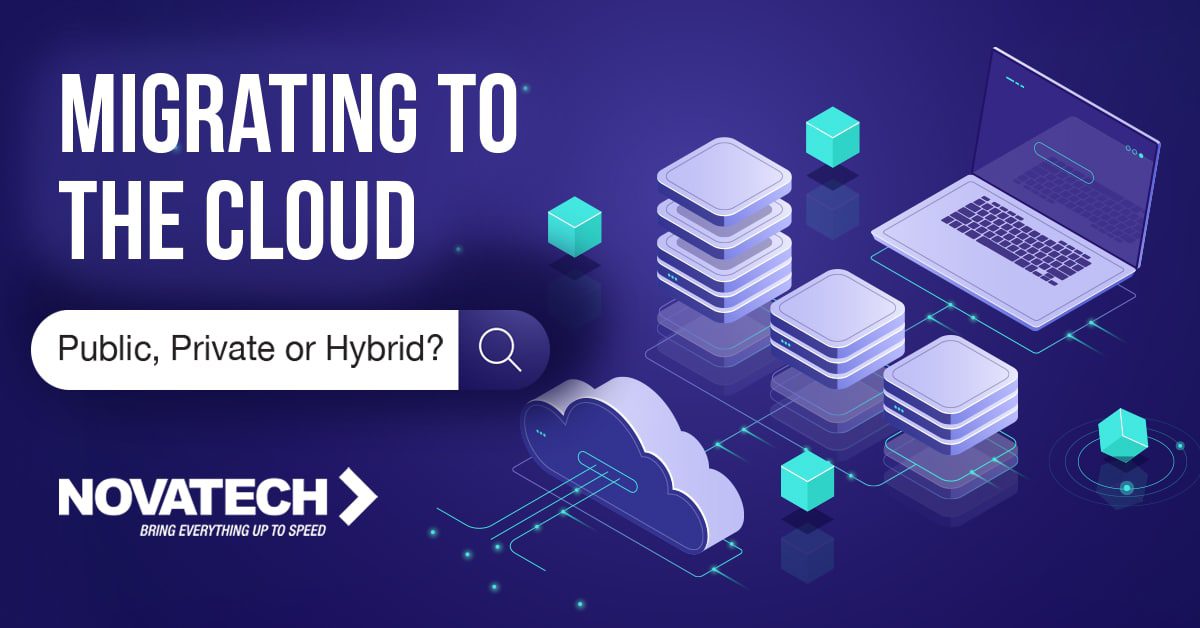 Cloud computing helps companies of all sizes improve business efficiency and reduce costs. It offers numerous advantages, including scalability, flexibility and business agility. As a final perk, cloud computing is a "pay-as-you-go" service. It completely eliminates the infrastructure expenses normally involved with on-premise servers, data centers and other resources. Depending on the service provider, it can also eliminate management and configuration of the cloud resources, themselves.
Cloud environments fall into one of three categories: public, private or hybrid. Private clouds are generally considered to be the most secure, and public clouds are often the most affordable. Hybrid clouds incorporate both, which can make them a good compromise. However, there are considerations for all three that may impact a business owner's decision — and even change their outcome. We'll detail them, and more, here.
Private Cloud
With a private cloud, organizations enjoy the benefit of a single-tenant environment used by one defined operating unit, whether it is a business division or an entire company. As with all cloud environments, private clouds are scalable and can be fully self-service, although many firms choose the reassurance of having their private cloud managed by a third-party provider.
Like public clouds, private clouds rely on virtualized computing resources supplied by physical equipment stored at a physical location — often a vendor's data center. Private clouds are generally considered the best solution for firms subject to regulatory requirements or compliance mandates. In fact, using a private cloud can be a requirement for a firm operating in a highly regulated industry, or even for those who do business with one.
Public Cloud
A public cloud uses a standard remote computing model to make data center resources available to users. It lacks the security features of a private cloud, unless the provider has implemented separate security measures via the connection or other mechanism. However, it offers the advantage of requiring lower investment than a private cloud, because multiple entities can be hosted in the same data center and operate from the same pool of resources.
Public clouds are readily scalable and can possess greater elasticity than private clouds, depending on the provider. (Elasticity is the ability to adapt to workload changes quickly.) Depending on the provider, public clouds can also provide greater availability and resiliency than private clouds. However, as noted above, public clouds are not as secure as private clouds.
Hybrid Cloud
A hybrid cloud is a cloud solution that connects to at least one public cloud and one private cloud, providing management, orchestration and application portability to both. For example, an application stored on a public cloud could be made available to a user logged into the private cloud who is relying upon a database stored there.
All of this connectivity takes place behind the scenes, so the user would simply know that they were opening an application and accessing a related database. Provided that a company is not required by regulatory or compliance constraints to use a private cloud — and has not committed to customers, partners or the public that they will do so — a hybrid cloud can be the most accommodating option.
Public, Private or Hybrid?
At Novatech, we believe that every client scenario is different, so we custom match their needs and business priorities to the cloud solution best for them. We also remind them that when considering cloud options, it is important to remember all clouds carry some level of risk because they transmit information to users over an
Internet connection. For that reason, we recommend implementing an added level of protection between the cloud and the business that can monitor traffic and stop potential attackers from gaining cloud access. As data volumes increase, the number of cyberattacks are also increasing rapidly. Working with a respected cloud provider that also offers a comprehensive cybersecurity program can significantly reduce enterprise risk. For more information on cloud models, cloud services, or any other aspect of technology, we invite you to call us at 800-264-2637.