Novatech Taps Industry Executive as New Director of Cybersecurity Services
May 31, 2023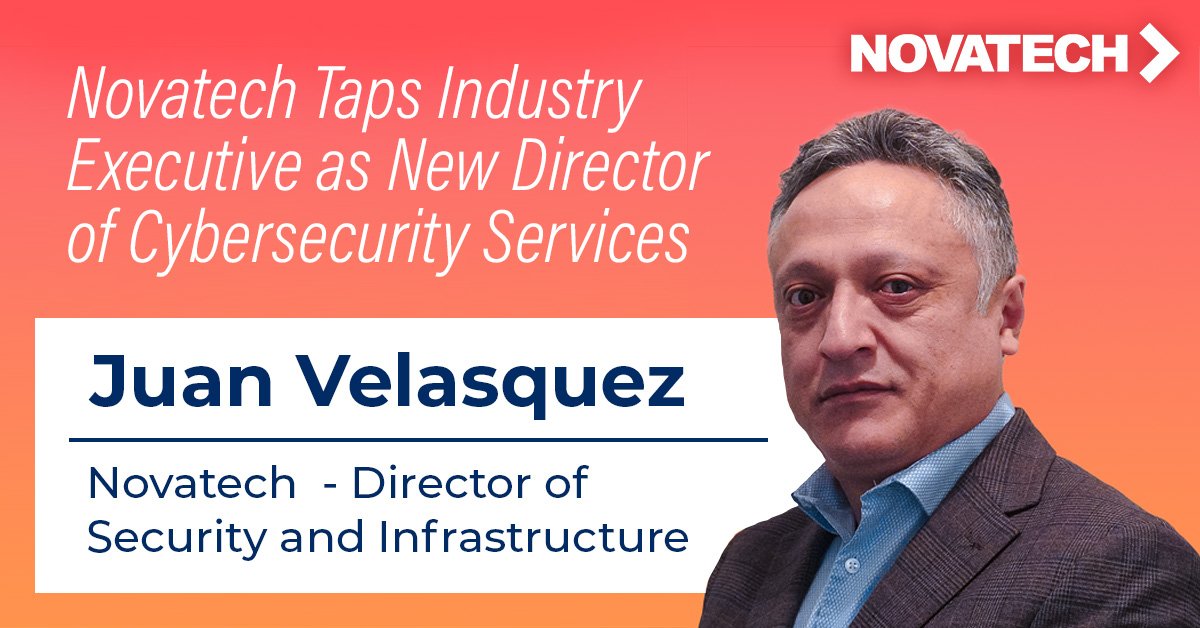 ATLANTA (PRWEB) MAY 09, 2023
Novatech, a leading provider of managed information technology services, today announced that Juan Velasquez, a seasoned cybersecurity expert, has joined the company in the role of Director of Security Services. In this newly created position, Velasquez, who boasts both government and private sector experience, will formalize the operating structure and workflow of Novatech's cybersecurity practice, injecting best practices into the group's operation and helping Novatech customers satisfy regulatory mandates while assuring data security and privacy.
"As part of the concerted effort to expand our cybersecurity services, we elected to strengthen our existing operation with the formation of a new director level position then intentionally went after a cybersecurity professional with extensive experience in the Managed Service Provider arena to fill that role," said Billy Turner, Vice President, Managed Technology and Security Operations. "Velasquez's deep cybersecurity expertise and vast array of credentials will allow our customers to take advantage of the newest innovations and best practices in this critically important area of risk exposure."
Close to half of all hackers (43%) focused their nefarious efforts on small- to medium-sized businesses (SMB) in 2019 and, just two years later, 60% of SMB companies reported being the target of a cyberattack, according to Security Intelligence. Novatech's cybersecurity services offer SMBs the same enterprise-grade protection as larger companies have at a more attractive price.
"Most SMBs lack the resources to build a comprehensive cybersecurity program and add cybersecurity experts to their staffs," said Novatech's Turner. "As a result, SMBs are more vulnerable to cybersecurity threats than larger, well-funded enterprises. SMBs delegating their cybersecurity to Novatech no longer have to compete with these companies to recruit and maintain an in-house cybersecurity staff."
Prior to joining Novatech, Velasquez worked as IT Director at Core Technologies, where his strategic vision and hands-on leadership supported the company's enterprise-wide business technology cybersecurity initiatives. In that capacity, he managed enterprise cybersecurity governance structures, policies, processes and performance metrics. He used industry security standards and frameworks, such as NIST, DFARS, FISMA, HIPPA and PCI, to direct the company's cybersecurity organization. Prior to that, Velasquez served as a vCISO at NXTsoft, where he worked with market leading organizations to ensure their security programs complied with regulatory mandates in the health, government, financial and law sectors.
About Novatech, Inc.
Founded in 1998, Novatech, Inc. is a nationwide business technology provider. The company eliminates the need for multiple managed service providers, hardware dealers and software integrators. Offering a full Managed Office portfolio, Novatech simplifies and streamlines the technology experience for today's business. Bring everything up to speed with Novatech today! For more information about Novatech, visit Novatech.net. Follow @novatechnet on social media for all the latest news.