Office 365: A Better Value than Ever — and the Time Is Now
March 27, 2020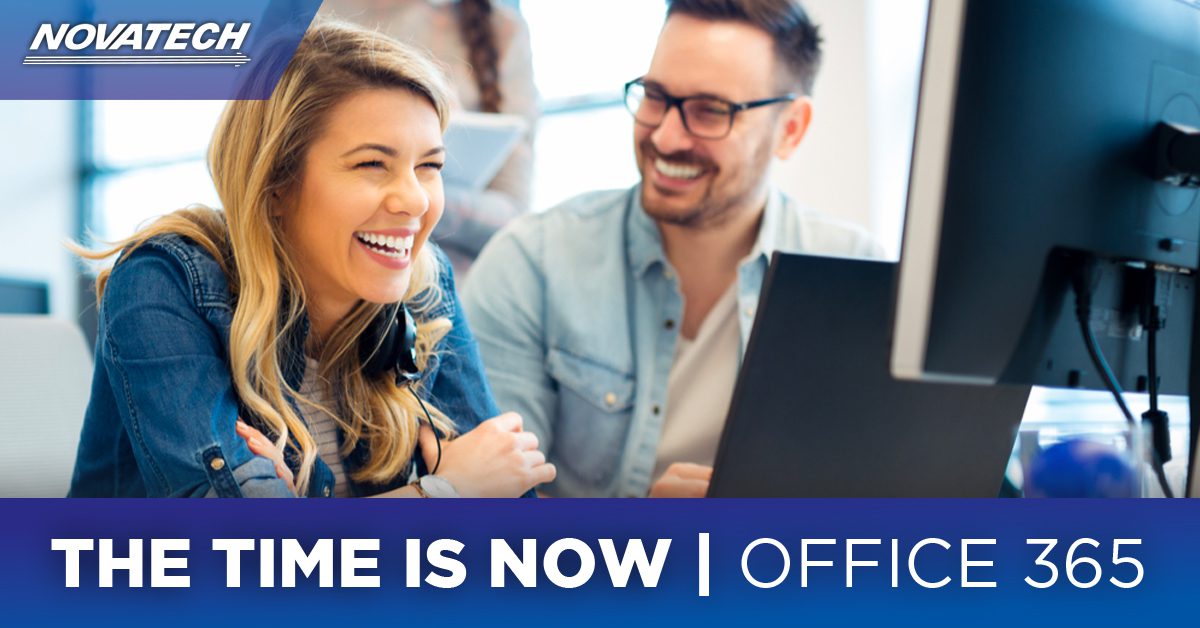 In early 2020, global accounting and advisory firm KPMG released an advisory insight entitled "Ten Key Regulatory Challenges of 2020." In the paper, KPMG leadership noted that 2020 signals the start of a decade of business change that will directly confront business leaders with greater regulatory and policy challenges, from safety to risk management.
The paper's authors outlined five business imperatives for companies large and small — technology transformation, customer interaction, payments modernization, market expansion and cost efficiencies. All of these, they noted, will result in new and different regulatory risks and concerns.
The 10 challenges they listed ran the gamut from financial crime and geopolitical change to customer trust. One of them, which we at Novatech consider to be mission critical, was data governance and protection. Data has become every company's most valuable asset, and protecting it must be paramount. Yet, rapid communication, both internal and external, is also crucial to success. Historically, the two have often been at cross purposes with one another.
At Novatech, we have always believed in the power of Office 365 to drive company productivity and communication in a safe, secure manner. Its benefits are evident in its adoption — it is the world's leading cloud-based productivity solution, with more than 180 million commercial monthly active users. It also has the broadest set of compliance certifications and attestations in the software industry.
This year, in particular, the value of Office 365 cannot be overstated. Its singular ability to unite data security and office productivity makes it one of the easiest recommendations we have ever made.
Beyond the broad umbrella of "secure productivity," Office 365 equips companies with an expansive array of functionality that simply makes work easier. I've outlined a few of its most desirable features below.
Eliminate Onsite Infrastructure
The cost and complexity of purchasing, managing, and maintaining infrastructure for enterprise-grade software is overwhelming for most firms. When companies adopt Office 365, they eliminate the need for onsite infrastructure.
Flexible, Predictable Cost Model
Microsoft assumes all the burden and risk of development and implementation so that organizational leaders know exactly how much Office 365 will cost them. Furthermore, companies can scale their licenses (and therefore expenses) up or down at any time with no penalties.
Access to Better Intelligence
Many Office 365 users don't realize that the platform isn't limited to Word, Excel, and other traditional office productivity tools. Not only does it also include Skype for Business and SharePoint, it also incorporates BI — a business analytics solution. All of these products can be accessed through a single, simple web interface.
Anytime, Anywhere Access
Because it is cloud based, users can access Office 365 24/7, anywhere in the world, as long as they have access to an Internet-connected device. No corporate network connection is required.
Synchronized Data
Office 365 automatically and continually synchronizes all email, calendar, and contacts among each user's devices. If the company is using SharePoint, documents can be automatically synchronized as well.
Expand IT Flexibility
For firms that maintain an in-house technology staff, adopting Office 365 frees IT resources to focus on solving business users' problems, or innovating in other areas, not applying patches and updates.
These are some of Office 365's top benefits, but they are far from its only ones. To dig deeper into Office 365 and what it can do for your firm, visit Novatech.net today.