How to Print Business Cards
June 24, 2022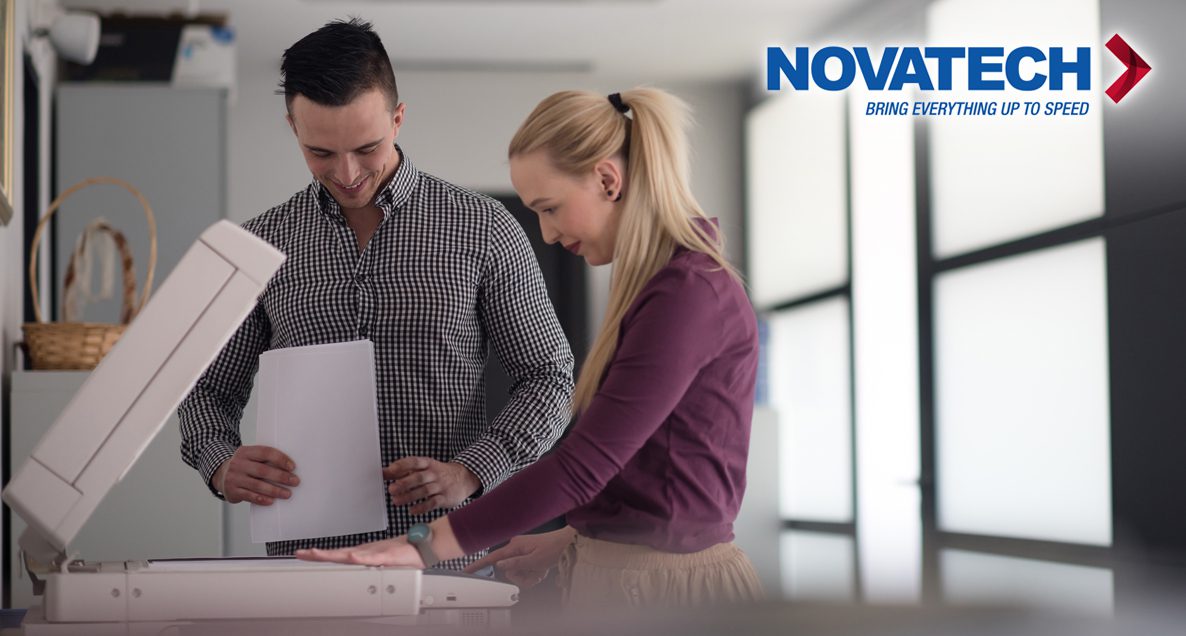 The world has changed a lot when it comes to business card trading. There was a time where everyone would exchange business cards at every opportunity to ensure they had a chance to earn more business. Now, people are just as likely to exchange cell numbers, do vCards from their phone, or connect via LinkedIn or other social media.
We have helped some companies who used to print massive amounts of business cards do this in house with the same professional appearance and feel they are used to, but whenever and however many cards they want for their people. As these clients scaled down their printing, it started to make more sense to bring this task in house.
We will go over how to print business cards, and how to even take them to the next level, if you are going to have to print a decent number of business cards.
Paper Matters When Printing Business Cards
The most important part of a quality business card is the paper it is printed on. Often, people simply purchase thick paper or card templates that are perforated to print business cards, but our experience is this is not good enough if you compare it to the quality of a print shop.
Our belief is anything done in house should be as good as when it is sent out. Having frayed edges on a card because it is on perforation paper will simply look cheap to most people who get such a card. Since your card is a representation of your brand, we think it is worth going the extra mile.
Our minimum paper stock thickness for a business card would be 220 gsm. This would be thick enough not to feel cheap. But even with this thickness, we would suggest getting different paper and slight color variations so you can have that perfect look and feel.
For a really thick business card, you are likely use paper with a gsm of about 300.
You will also need to decide if you want to have cotton, foil or paper. The most common is paper, but for specialty cards, some people do get creative. If you print your own card, you probably will also skip painted edge printing. This is where the edge of the card is also colored.
Printing Business Cards with Corners
If you bring business card printing in house, rounded corner printing will probably go away. Most companies won't want to buy the additional printing equipment needed for this to happen and look good.
The Printer You Use
The printer or copier you use will be critical for the quality of the business card. If you have a throwaway inkjet printer, the odds of having a card you are happy with are very low. If you have a really solid color copier which is used for all kinds of marketing applications, then business cards are one more area where it can be used effectively.
Paper Cutters for Business Cards
We would suggest professional paper trimmers or cutters. We use Formax for this, and the nice part about having a proper paper cutter is you will have straight, clean lines and the exact same size for each card. You won't have cards wider on the top than the bottom or other cutting issues when you use a cheap paper cutter like we all used in school.
Type of Business Card Finish
You will need to decide if you want the card to be matte, gloss, high gloss, etc. These specs refer to how shiny a card is. Matte offers a more muted and natural look, and gloss is typically more bold.
Software for Printing Business Cards
Designing the card will likely happen in Adobe Illustrator, though some people are choosing sites like Canva now to create marketing literature. If you are unfamiliar with Illustrator, choosing to use a cloud-based graphic design program like Canva could be a good start.
What You Shouldn't Expect to Be Able to Do if Self-Printing
If you are doing your own cards, there are a few more things you should not expect to be able to do. A lot of these are because a print shop has very expensive processing equipment which is out of the range of most people.
Raised foil
Folded business cards
Rounded corner business cards
Gold, silver, white or clear ink
Florescent colors
Spot UV
It is good to know what you should expect to not be able to do.  If one of those is critical to your cards, you probably are not ready to bring business card printing in house.
Request Forms for Business Cards
We would also suggest, if you bring business card printing in house, you have a form people will need to fill out in order to get these business cards. This will help you not have wrong phone numbers, emails or name spelling.
Proof Before Printing Your Cards
Making a pdf for the person requesting the card to check for data and quality is a good idea too. This is yet another way to help prevent errors and omissions from happening. It will ensure the title, the name and the number as well as social mentions are all correct.
Most companies can print their business cards in house. If you are going to, it is good to think through the whole process so your quality isn't way worse than had you just sent them out to be printed. We find the biggest advantage is not really the cost savings as much as the instant access to cards when needed. The online places print cards so cheap that most companies find it isn't worth bringing it in house for just the money, but even if you don't generally send them out, it is great to have a system to print them when needed.
If there was a trade show this afternoon, and the sales rep needed 250 cards, it would be nice to be able to print them and not pay massive penalties for submitting the order at the last minute.
Here at Novatech, we help ensure your technology works, and you have the right equipment and knowledge to thrive and take your business to the next level.
If you would like to chat more about business card printing or any other technology-related questions like copiers, printers, managed IT or managed security, we would love to help!