Signs Your Business Needs Production Color Printing – Or Doesn't
April 14, 2022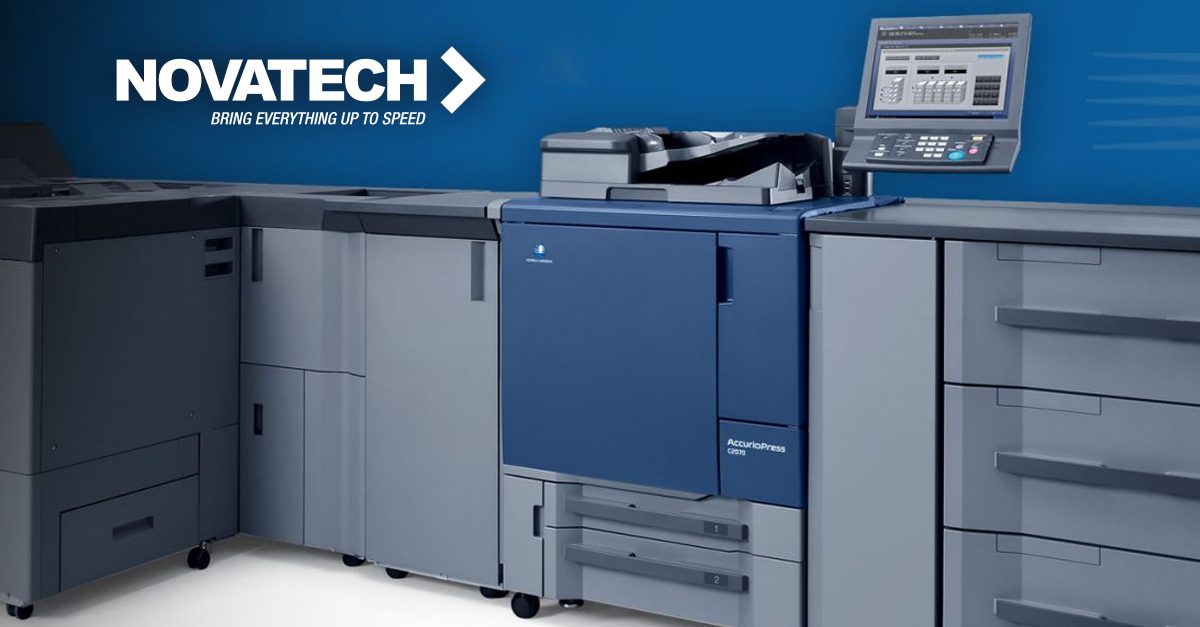 Has production color printing been on your radar for a while? Ever felt your business needed something a little more robust than the typical office color printer? We often talk about production color printing with document-intensive organizations in education, training, mortgage financing, and others frustrated by the limits of their office devices.
They wonder if it's time to go from their traditional color office printers to something stronger, like an in-house production color printer.
Two Signs You Need a Production Color Printer
These are just a few of the signs that a heftier color device might be the right path for you:
1. You're wearing out the office printer.
When nonstop heavy use is wearing out the standard office machine, that's a good sign it's time to upgrade to something bigger. Often the alarm first sounds in the mail room or copy room, often home to the business copiers and other hardware. If volumes are getting beyond the capabilities of current devices, these groups spot it first.
For example, your company bought a 20,000-print color machine over a 48-month term, but you're now running 40,000 prints a month. You end up paying a premium per-print rate for the overage and require more service, because the device wasn't built for that volume.
If you're just killing that color device at nine cents a copy, a print specialist might recommend a production machine at half the cost per print. If you invest in a more expensive machine built for the volumes you actually run, your true cost per page will be lower, and your business printing will be more economical.
2. You're outsourcing lots of business printing for finishing
In addition to the volume flags, the need for document finishing may be a factor in moving to something that can do more versatile, production-grade document work.
How do you handle print jobs that need finishing features like hole punching or folding? If you continually outsource print jobs because they require finishing, it's probably costing you more than just a premium price for commercial print services. Also factor in the time and effort to get the print job to the vendor and back, plus additional workflow and approvals for outside billing.

Ask "Why Are We Printing This Way?"
There's a lot to think about if you're outsourcing too much document work. Start with why are we doing this? Is it just force of habit? Maybe the business doesn't have the manpower to support more in-house jobs. Maybe no one has really explained the savings that are possible with a color production machine.
How much do you spend on outsourcing? Or conversely, how often do you sacrifice professional-looking documents because of cost restrictions or lack of capability? These are questions we typically start with if a company needs advice about upscaling their color print situation.
Do I Need a Bigger Color Printer? What to Think About Next.
You wouldn't think there could be so many factors to consider when deciding to step up business color printing. We encourage conversations with our customers to hash out where they stand on variables like these:
Purpose of output
Shelf life of output
Your brand image
Customer experience with your documents
Budget constraints
Support requirements
Home office vs. office
Labels and specialty media
Type of business
When we work with companies in this situation, often their printing growth pains can be traced to a need for something different when it comes to:
Media – types of paper
Volume – seasonal in some markets like education
Finishing options – booklets, binding, folding, creasing
Full-bleed output – design reviews or packaging mock ups
Color quality – professional image, communication
Are There Alternatives to a Production Printer?
We've worked with many different businesses to come up with the best choices for their business and roadmaps to prepare for future changes. Here are options to consider for dealing with an office color device problem.
Uplevel the existing office machine – You can get a Fiery digital front end for some office copiers and multifunction devices.
Get another office machine – Having two to share the load might not be a bad idea for redundancy and back up.
Managed Print Services – If your business already has Managed Print Services (MPS), the provider may work with you to include a production printer in the contract. This has economic advantages because most supplies and service can be included.
Managed Consumables – Some MPS providers and printer/copier partners also have managed consumables programs that include free service. If you're going through lots of supplies at an unpredictable rate, this could be an affordable option to extend the life of your office color printer and your consumables budget.
Who's Qualified to Operate that Printer?
This might not come up until later in the decision-making process, but at some point you'll want to think about who will be responsible for operating your new production printer? If this is a step up for your business, let's assume you don't have anyone prepared to run it. How would someone get up to speed?
For Novatech customers, we provide training on color printers and their Fiery device front ends (DFE). The DFE processes the high volumes of graphics and production data it takes to produce quality color output. It's where the operator, often a designer, sets up print jobs for business cards or postcards, for example.
Where Will You Put a Production Color Printer?
So you've made it this far, and you're getting pretty excited about ramping up your color printing capabilities for so many reasons. But hold on, you've got to give this step some thought, too. Do you have adequate space for a larger device?
That's another thing an experienced partner like Novatech can help with. Our experts look at the dimensions of the intended space and help figure out what will work best. Electrical access and network connectivity are other questions to cover.
Our goal is to ease the transition to next-level business color printing, whatever that roadmap looks like for your business. Change shouldn't be a painful process, and you should see value creation quickly. Otherwise, we haven't done our job. But whether you call on us about color production print or go in a different direction, be sure to talk about some of the things we've mentioned here.
If you'd like to have a conversation with us, please fill out the short form on this page, and we'll get right back to you.