Upgrading Your Copiers? 10 Things You Can Expect from Novatech's Latest Copier Models
September 22, 2023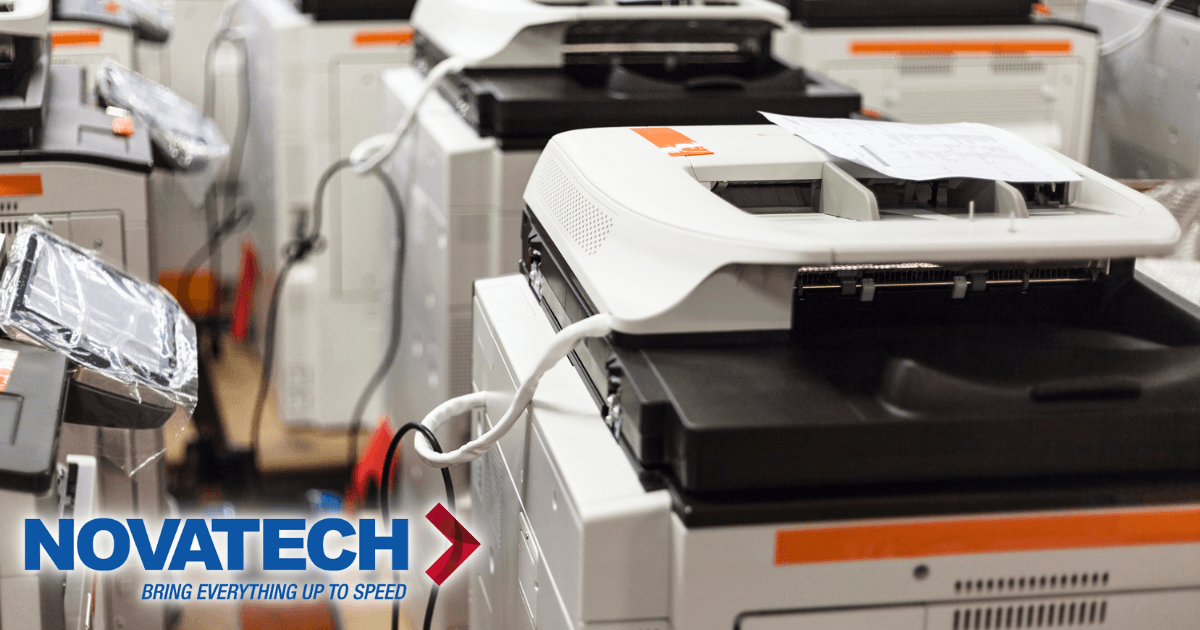 When the time comes to upgrade your copiers, the options might seem endless. But Novatech stands apart, offering the latest copier models specifically designed to boost productivity and efficiency. Novatech offers copiers from some of the leading brands in the market. Our product offering includes Canon, HP, Konica Minolta, Sharp, Xerox, and Brother. Here's a detailed look at what you can expect from our state-of-the-art copiers:
1. High-Speed Performance
Our new copiers are built to keep pace with your business environment. With the ability to produce many pages per minute (some models offer 100+ page per minute speed) without a drop in quality, waiting time is greatly reduced, enabling your team to focus on what truly matters.
2. Enhanced Security Features
We understand the importance of protecting sensitive information. Our copiers are equipped with robust security protocols such as user authentication and data encryption, ensuring your documents remain confidential and secure.
3. Eco-Friendly Operations
Our latest models are designed with sustainability in mind. From energy-saving modes to reduced paper consumption, we help you minimize your environmental footprint without sacrificing efficiency or quality.
4. Seamless Integration
Novatech's copiers effortlessly connect with existing networks and systems, offering smooth integration into your current workflow. Whether it's connecting to cloud services or integrating with your preferred document management system, our copiers are engineered to work with you.
5. Intuitive User Interface
Ease of use is at the core of our design philosophy. The intuitive touch-screen interface guides users through the functionalities, making it easy for anyone on your team to utilize the advanced features without needing specialized training.
6. Advanced Scanning and Document Management
Our copiers offer advanced scanning options, such as Scan-to-Cloud functionality, enabling remote collaboration and instant access to essential documents. Moreover, efficient document management tools simplify organization and retrieval.
7. Tailored Solutions for Your Needs
At Novatech, we know that every business is unique. Our team is ready to consult with you to understand your specific needs and tailor a copier solution that aligns with your goals and budget.
8. Dedicated Support from Novatech's Team
Your success is our priority. Our support doesn't end with the purchase. Novatech's experienced technicians provide ongoing support, maintenance, and training to ensure your copiers continue to operate optimally.
9. Quality Print and Imaging
Novatech's latest copiers offer crisp and vibrant prints, whether you're printing a simple text document or a complex color presentation. Quality is never compromised, reflecting the professionalism your business embodies.
10. Flexible Financing Options
We provide flexible financing and leasing options that suit different business models and budgets. Whether you prefer purchasing or leasing, our team will work with you to find the best fit.
Elevate Your Business with Novatech's Latest Copiers
Upgrading your copiers with Novatech means aligning your business with innovative technology designed to enhance productivity, security, and ease of use. Our commitment to understanding and addressing your unique needs sets us apart.
With our latest models, you're not just investing in a copier; you're investing in a partner committed to supporting your growth and success. Discover how Novatech's cutting-edge copiers can redefine how your business operates. Reach out to our team today, and let's make your next upgrade a transformative experience.