3 Ways The Coronavirus Outbreak May Change The Workforce
March 17, 2020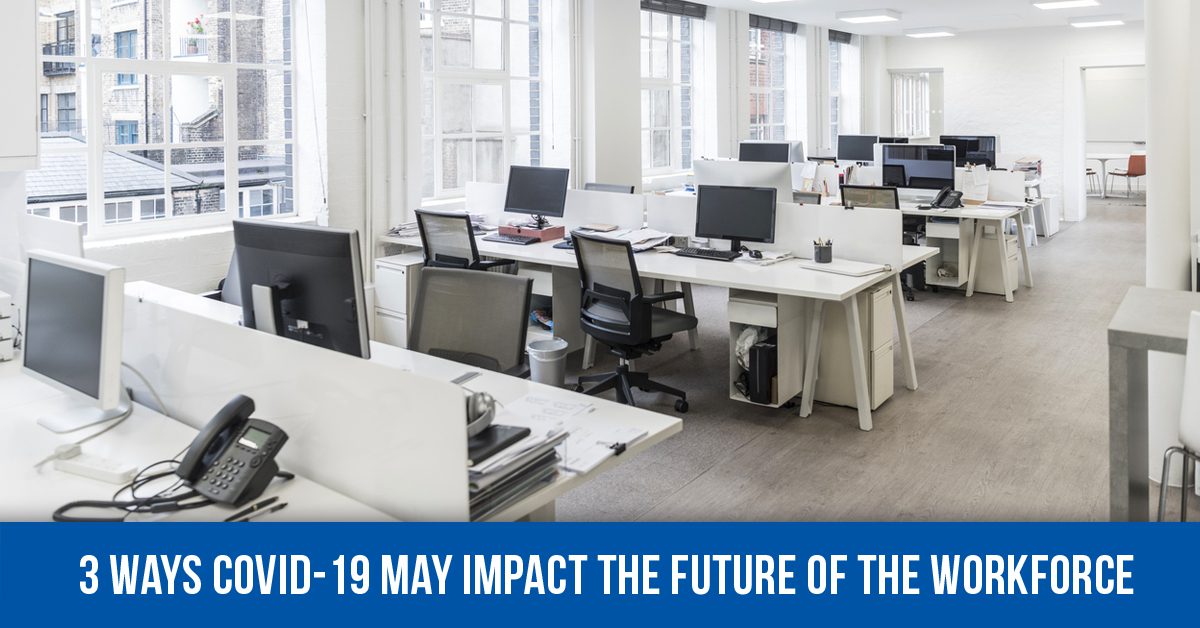 Ashley Stahl | Forbes
Contributor
When global health emergencies take place, they often bring to light gaps within the infrastructure of the world—and the workplace. It's up to businesses to recognize these gaps and make improvements to protect their employees in the future. In 2016, the flu season was estimated to cost $5.8 billion in health care and lost productivity costs, while the swine flu in 2009 had an estimated economic loss range from 0.5 to 1.5% of GDP (gross domestic product) on affected countries. Global illness is no financial joke.
I have identified three main ways Covid-19 may impact the future of the workforce and what your business can do to build a successful and healthy organization moving forward.
1. More telecommuting.
According to Flexjobs, remote work has grown 91% over the last decade, and, given the contagious sensitivity of the coronavirus, it looks like this will only become more commonplace. As of March 6, 2020, Amazon, Facebook, Google, and Microsoft have all encouraged employees to work remotely, especially in Seattle offices, where the virus has been identified. Offering remote work is an easy option for these large corporations since they have built the infrastructure to support it.
If your business is built in a way where it would suffer serious losses in the event that your team worked remotely, take note. Given in today's job market, 85% of employees report a desire to work remote. Providing employees with the opportunity to work remote will also allow you to attract top talent.
Spend the time now to build your company's capability to offer remote work. Here are some incredible online communication platforms that can be used in and out of the office:
Slack: Online communication platform that integrates with a wide variety of apps such as Google Drive, MailChimp and Dropbox.
Zoom: Remote conferencing services that provides video conferencing, online meetings and chat.
Asana: Platform for project management to organize, track and manage work. Provides tools to track tasks, share lists, timelines and initiatives for projects.
Invest in providing your employees with the equipment they need for remote work. This may look like purchasing and distributing home monitors, laptops and Bluetooth headphones for conference calls.
Remote work isn't just about providing tools and technology, it's about creating a culture that respects and encourages it. Today, many employees report feeling scrutinized for staying home to work, even when sick. This all comes down to building trust with your team, and that looks like having open communication and creating clear expectations. Set guidelines for checking in and establish deadlines for tasks and projects to keep everyone accountable when they are out of the physical office.
2. Rise in "unlimited sick days."
According to Harvard Health Publishing, mild to moderate symptoms of the coronavirus last anywhere from a few days upwards of a week. In extreme cases, it can take months to fully recover. Moreover, the virus holds an incubation period of approximately fourteen days, meaning that if an employee becomes ill or has come in contact with someone that is, they will be stuck investing all of their precious sick days into one incident. Prior to the coronavirus outbreak, data suggests that 90% of employees have admitted to coming to work when ill. These sick employees are reported to be one third less productive than engaged and healthy employees… and of course, they infect their colleagues.
Update your sick leave policy to accommodate the health needs of your employees.  Major businesses like Netflix and LinkedIn already offer unlimited time off, including unlimited sick days. If that feels too extreme, create a plan that extends sick leave based upon the severity, or, offer only unlimited sick days and stick with your current paid time off plan. Because, let's face it, healthy employees lead to a healthy business.
3. Increased reliance on tech and less on travel.
With the increase in access to easy transportation, business travel has grown exponentially over the past few decades. It is reported that 62% of American workershave traveled to another state within the past year for work, which translates to roughly 1.1 million people traveling for business every day.
As of March 6, 2020, the CDC has reported 99 cases in the U.S., 30 of which have been confirmed as travel-related, 20 person-to-person and 45 still under investigation. This is a clear indication that travel is a large contributing factor to the virus spreading.
When you take into account travel's impact on global health, the workforce may not rely on travel as heavily in the future. Moments like this inspire innovators to create new technology for businesses to rely upon, which very well may dissuade future business travel. Begin to consider alternatives, such as artificial intelligence and advanced machinery to solve issues before sending employees abroad. Invest in more telecommunication between sites and less on that expensive airfare and hotel stay. If you often send employees to various sites to conduct training, consider virtual reality as a tool for reaching the same goal.
This will cause airlines to take a hit, given that business travelers who take up 12% of all airline seats account for nearly 75% of annual profit. Nonetheless, business is business and your responsibility is not to the airlines; it's to your staff— their health, productivity and results. This is why it's time to consider how you can accomplish the same efforts through virtual technology.
This article originally appeared on
Forbes