5 Ways Managed IT Support Benefits Your Business
May 10, 2018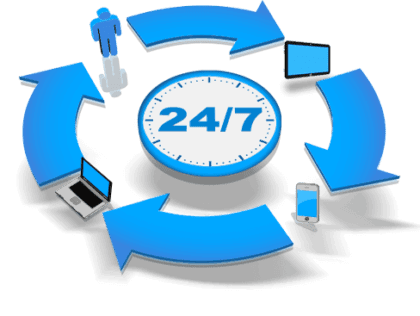 Here at Novatech, we have been providing managed IT support for small to mid-sized businesses in the Atlanta Metro area since 1992, so we may be a bit prejudiced about the value of such a service, but this bias comes from seeing first hand the benefits that our clients have realized. Here is what we have found:
Effective Management of IT Costs
When you manage your own IT network, you have to be prepared for unexpected costs at any time. This can include needing expertise that your in-house person or small team doesn't possess, equipment failure, employee turnover, etc. When you are working with a qualified managed IT service provider, however, they will have people readily available with the training necessary to handle virtually any problem that may arise, and at fixed monthly costs. Since they take on the responsibility of keeping your infrastructure up and running, it behooves them to make sure everything is in tip-top shape at al time. Truly a win-win situation.
Training
Technology today is moving at lightning speed and the only way anyone can keep up-to-date is through ongoing training. This costs you money and means your IT person (people) will be out of the office at seminars and even out-of-town classes. If they are not, you run the risk of them not being prepared. When you engage the right managed IT support company in Atlanta, they make sure that their people are up-to-date and they can do it better because that training benefits many clients. This way you know that you have the availability of experienced specialists.!
Up-To-Date Technology
Along with keeping training current, your IT support provider will be better able to make sure your technology, including all-important security protections, are the most current and most effective available. They are also in constant touch with the best IT vendors in the business and together with your staff, can implement the projects that can help move your business forward.
Concentrate on Your Business
Your time is valuable and as important as IT is these days, and as time-consuming as IT considerations can be, you will find it is a great relief to be able to take this concern "off your plate." The right IT company can effective function as your CIO and/or CTO. Until your company has reached the point where it makes sense to staff these expensive positions, the team at your support provider will very effectively fill the bill.
Effective IT Support has to function around the clock. Your employees are in the office, working from home, on the road, and need support when they need support. Cyber intrusions also take place around the clock and equipment fails around the clock. Can your company really rely on people who, as well-meaning as they may be, are in the office from 9 to 6, then hard to reach? Or taking a sick day? Or on vacation? While we may have saved this for last n this list, it is by no means the least important. The right, qualified IT service provider will monitor, manage and maintain your IT infrastructure 24 / 7 / 365 because in today's environment this is all-important.
So if you have ever considered working with a managed IT support company, or would just like to start thinking about it, give us a call. No pressure. No obligation. Just an open and frank discussion. 777.569.4600.