Cloud-Based Storage: Is It Working for You?
April 20, 2016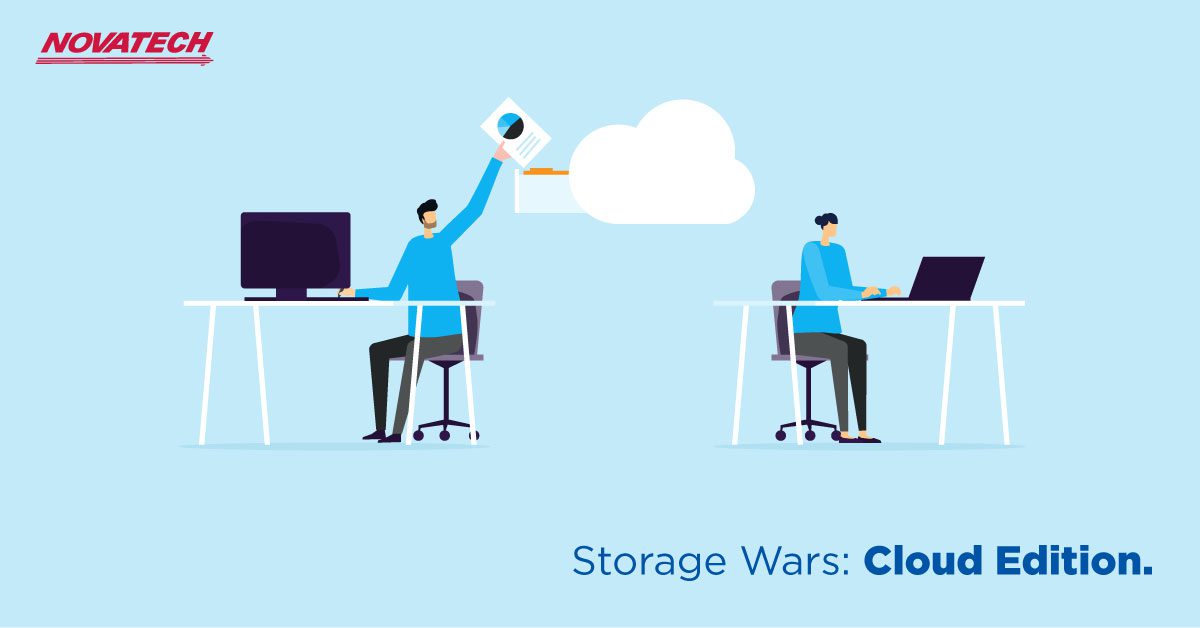 We have watched with interest what could be called "Storage Wars: Cloud Edition." In this production, treasure hunters aren't trying to outbid each other for locked storage containers. Instead, companies are working to figure out how the cloud can help them store and access files for better productivity and mobility. Although the cloud can be powerful for many reasons, one of its greatest benefits is its "anytime, anywhere" nature, which enables remote file access, transfer, storage, and backup for personnel using any device with an Internet connection.
Despite this fact, there is no consensus among business decision-makers about cloud storage solutions. Adoption of the big mass-marketed services—Dropbox, Google Drive, and Microsoft OneDrive—is nearly evenly split (Dropbox leads, at 33%). However, many firms are uncertain if they should trust these services and don't know if there are other, potentially better, choices.
Here is the scoop: There are numerous options for cloud storage, including custom solutions developed and administered by IT services firms. Some but certainly not all of these are more flexible, intuitive and/or configurable IT solutions than these "Big Three." Many organizational leaders might assume that all these solutions are similar and use the same basic setup and logic, but that is not true. They differ in cost, security, ease of use, operating design, and other variables. As a result, the search for a storage solution can be complicated and should be thorough.
Storage Selection Should Not Be Taken Lightly
Even apparently minor differences can make it more likely that one service creates greater risk exposure than another. File sharing is a prime example. Windows has a built-in mechanism for file sharing that, while not exactly easy to use, optimizes sharing for security over convenience. In short, only administrator-level owners of a folder can configure sharing, and they also decide who can access the folder—and what actions they can take with it.
One of the "Big Three," which we won't name, does not work that way for all versions. Its "business" solution has fairly robust sharing controls. However, its "basic" version handles sharing in a messy, risky fashion.
In this version, the folder's owner (the effective administrator) does not have the ability to customize access. Anyone given access can share the folder with anyone else for viewing or even editing. Those users can take actions, such as moving folders that they do not own, that have serious ramifications. A simple drag and drop action, for example, can automatically break the connections that support folder sharing and synchronizing (populating file changes to all shared members) and no one is the wiser. Undoing the action does not fix the problem, and resending sharing invitations does not repair the synchronization damage.
Yet, 78% of employees in a corporate survey admitted using this version of the service outside IT approval—and many businesses adopt it organizationally as a low-cost storage solution.
Decision Time
In summary, methodologies for sharing, as well as two other "S Words," security and synchronization, are fundamental aspects of file storage. Unless they are configured effectively, they can put corporate assets at risk, not only of data theft but also of damage or loss—a function of data protection, which we talked about last week.  As a result, we urge organizations to work with a reputable IT consulting or IT support company to evaluate, determine, and configure the most appropriate storage solution. We don't have room to provide specific recommendations now, but we'd be happy to "share" them with anyone who gives us a call.
Novatech is a Managed IT services and cloud computing provider for small and midsize businesses. All of our solutions focus on helping companies achieve the three fundamental IT necessities of the modern business—availability, security, and mobility. We specialize in on-demand and on-premises managed IT services, managed cloud infrastructure, desktops and backups, and professional hardware and equipment installation. For more information about Novatech's  IT support and services, visit Novatech.net