Cloud Services
July 13, 2022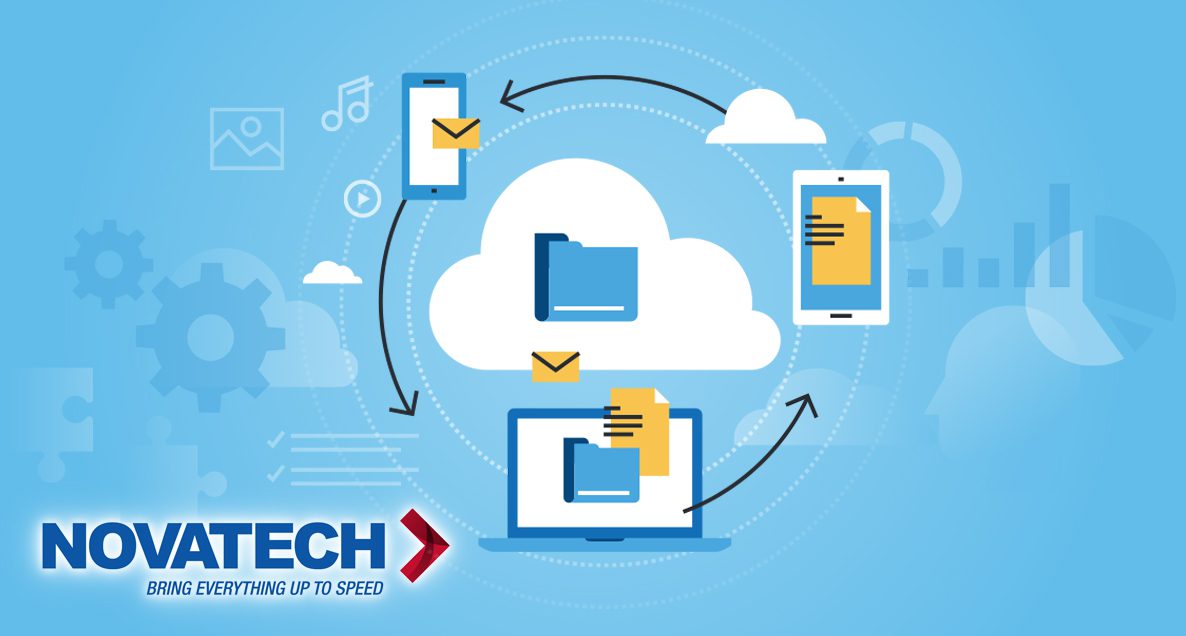 You may be thinking about getting cloud services, but if you are like a lot of business owners, you have questions. They could be as simple as "What are cloud services?" or something more complex like "What cloud service provider is best for me?" Or one even more complicated about Microsoft Azure or another cloud platform.
Here at Novatech, we have helped clients with their cloud services since cloud services were created. We have been in the game since the inception of the cloud services model. We can help you answer all kinds of questions.
In this article we will cover some of the different cloud solutions, weigh the negatives and positives, as well as discuss hybrid cloud security.
What Are Cloud Service Providers?
Cloud is a pretty generic term nowadays. There are multiple cloud solutions. There is Software-as-a-Service like Facebook and Amazon, SalesForce and Quickbooks, which all have cloud solutions.
At Novatech, we designed and implemented our own private cloud within a data center, where we own all of the equipment. As a solution to our customers, we host their applications and their data, which they access through a portal that we create for them. We currently have thousands and thousands of worldwide users connected to our cloud services.
Having created our own cloud computing service gives us a unique insight into cloud computing as a whole. We understand how to build a data center, how to secure the data, how to monitor cloud storage, and how to compete with multi-billion dollar giants like IBM Cloud, Google Cloud Platform, Oracle Cloud, Amazon Web Service (AWS), Microsoft Azure, and others.
We have to work with our clients to see if it makes more sense to be in a private cloud environment, or use public cloud services. There are security risks and cost considerations with each, so it takes time cooperating and understanding the needs a client may have for the best possible infrastructure.
Drawbacks of Azure or AWS vs Novatech Cloud Services? Aren't They Basically the Same?
To an end user in a cubicle or an office, they would not know the difference. A big difference between using Azure or AWS and us is on the backend with support. We own and control the equipment that our cloud runs on. That means if there is ever an issue, we can put our hands on the equipment within two minutes. If it's on Azure or Amazon, though we are supporting it, we can't just go resolve a physical issue. We would have to call them and be reliant on their process.
Our level of support is also based on the relationship and knowing the end users. It is a very different experience than having to call some 800 number and working through the process of getting bounced around and scheduling.  As a managed services company, we are used to supporting clients and hardware with US-based support. Avoid long, long queues and waiting for hours or days for a service to finally get back to you about your support ticket.
Another difference is that we do not charge clients on our private cloud for bandwidth, whereas Azure and Amazon do. They can have a dynamically built invoice based on the utilization, and you can't budget for that, so there is a big risk there. It can be a dollar or $5,000, depending on your usage of bandwidth. How would you refute Microsoft if they charged too much? It would be so hard to prove because it is in arrears of the bill.
Is Billing Based on File Size or Number of Users? How Do They Determine That?
It's a mathematical equation based on the number of users and the amount of data that they are either saving or pulling down from the server. Add all of that together, and there is an amount of bandwidth that was used. That's how Microsoft bills.
Since we are Azure-certified, we quote and support Azure. We also provide an allotment of data that we give to our customers for free on the front end. We do this to reduce the dynamic bill on the back end.
If you are an end user pushing videos all of the time to Azure, you are going to use a lot of bandwidth. After a year, you can normalize and get a general idea of what it will cost, but it can be very chaotic at first.
What Is Hybrid Cloud Security?
Hybrid cloud is when you have local servers along with the cloud. Hybrid cloud security could be a VPN between your location site and the data center where the cloud solution is, or SentinelOne being on the data center as well as the devices that are on your site.
Hybrid cloud means infrastructure, data and applications in a cloud solution as well as on site. So having security for both locations is imperative. If you don't secure the cloud, and it is breached, your internal network is also in danger, and vice versa. This is where a DIY approach could be a massive risk rather than using an experienced cloud provider like Novatech.
Do You Recommend Cloud vs On-Site Based on Business Size?
There really isn't a size when it comes to this. We have five users that run their entire business in our private cloud, then we have businesses with 500 people, like an automobile collision center that does their quoting from an iPad that's hitting our cloud with 600 users. Our cloud infrastructure can really take nearly unlimited users. We just have to work with a client to match the solution with the application.
It's really about recognizing the safety net of being in the cloud with redundant connections to the cloud-based solution. If the power goes out, the internet connection goes down, or there is an onsite disaster, those users can go somewhere else and still do their work. Our solutions are designed to make sure you are not down.
All of our data centers have had zero down time. Being able to go work anywhere on any device, any time, to us, is more mature than having your applications and data on a local server at the mercy of the environment. Ultimately, this will be your call, but we will take the time to explain your choices to you in plain English, so you can protect your business at the highest possible level.
Where Would On-Premise Cloud Make More Sense?
The big apps like Photoshop, Illustrator, AutoCad, Revit or anything that is graphic-card intensive, will not play well in the cloud. The reason is that virtualized servers and those video cards are not built to support multiple users. We recommend that those things be hybrid, where you leave the applications and data local, and put everything else into the cloud.
Difference between the Cloud and Virtualization
The cloud is a destination, whereas virtualization allows you to have multiple servers on a single physical device. The cloud is made up of virtualized servers, but you could also do virtualization on premise in your server room at your local business. When you say, "cloud," people think of the cloud as being somewhere else, but to a remote worker in Miami with corporate headquarters in Nashville, the headquarters would be their cloud. It is really just connecting to your applications via the internet, wherever they may reside.
We would love to help you create a cloud services strategy that works for your business. We are available to work with your team and audit what you are doing today. We will explain the strengths and weaknesses of different approaches to the cloud. Ultimately, we want to be a resource to you and your company. We will see what cloud capabilities you need and together formulate a plan that will work for you in the long term.