Managed Cloud Transitions: 3 Stories from Healthcare, Auto and Finance SMB 
April 22, 2022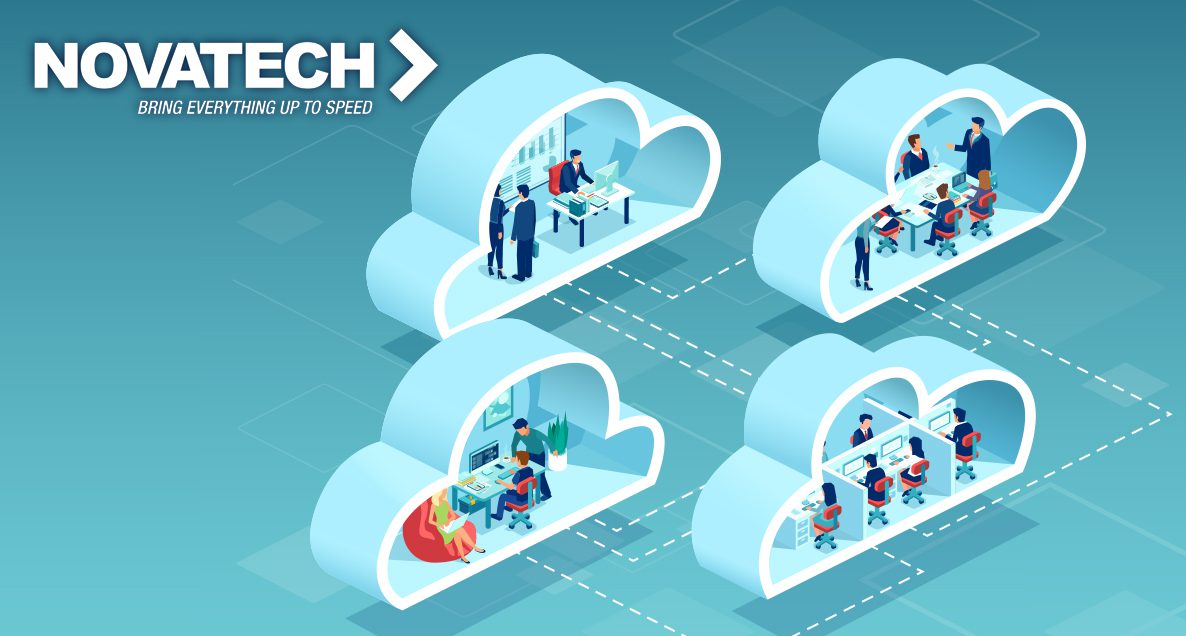 Making the move to a managed cloud transition doesn't have to be painful. Many SMBs in healthcare, finance, automotive, real estate, legal and other fields have had smooth sailing with managed cloud changeovers. Here are short overviews of three of their stories. 
Availability, Security and Mobility Drive Consumer Finance Business to the Cloud 
This Atlanta-based, consumer finance company specializes in personal loans, tax preparation, insurance, and other financial products. Founded in 2007, the business has grown to include branches in Georgia and Tennessee. Their goal: meet all customers' financial needs in one convenient location. 
However, business technology frustrated employees when they couldn't help customers because the computers were down. Another top concern was secure storage of financial and customer information to satisfy the industry's strict regulatory compliance.
After an assessment, their business technology partner recommended a cloud-based model —  the Novatech Business Cloud — to secure their corporate assets against accidental exposure. Novatech technicians migrated the company's resources to cloud servers hosted at a state-of-the-art, redundant data center. 
Cloud for Mobile Flexibility and Cost Control
With the new solution, finance company personnel have total working flexibility, even when they travel. Now employees use cloud-hosted apps and data through a secure online portal that works on any browser. 
Tech Support for Multiple Locations Not a Problem Anymore
Having multiple business locations heightened the need for consistency, redundancy and security. In response, technicians upgraded eight firewalls to:
Increase network security

across all office locations

Transition from hosted Exchange email to Microsoft Office 365 secure environment
24/7/365 user support and network management ensure continuity and uptime in all the offices. 
Interactive Introduction Encourages Faster End User Adoption
The business technology partner had a unique but engaging plan to introduce users to the Business Cloud portal: 
Generated

mock version

of the portal and invited company personnel to try and break through. When employees were stumped, management was ready to proceed.

Created

parallel environment

, so finance company users could experiment with the system before actual migration. 

Performed

live cutover after hours

, switching everyone to the virtual server and deploying the new portal on all PCs in a single effort, resulting in

virtually no production downtime.
After migration was complete, users quickly worked through their learning curves, and now "Everyone likes it," declared the IT manager. "We have had no major problems, and minor issues are fixed remotely by the Novatech support team, or they quickly talk our people through it."
Read the full story about this SMB cloud transition in consumer finance. 
Collision Repair Shop Transitions Business Tech to the Cloud 
A major collision repair center depends on its business technology to support 17 locations throughout northern Georgia. Business has become a lot more complicated since this family-owned and operated company began in 1983. Keeping tabs on software licensing was a growing problem. The recurring task was difficult, and unnecessary network outages hampered their ability to provide customer service excellence. 
This cloud transition story started with the need to reduce the network outages and handle day-to-day IT, and the search led to Novatech. 
Novatech, the company's IT managers and the shop manager came up with a more ambitious plan – move their entire day-to-day operations to the cloud. The complete cloud transition program included shifting all collision center operations to the cloud, hosted at Novatech's best-practices data center. 
A special challenge was transitioning specialized programs, including ProfitNet™, a collision shop management system, and estimating packages Audatex and CCCOne. "As far as we know, none of the products had ever been run in a cloud environment before, and Novatech was able to make them work," explained the IT manager.
Now the cloud-based technology framework helps the collision center "do everything right the first time" for its customers.
Read the full story of how this major collision center transitioned to a Managed Cloud. 
EHR Firm Moves to Cloud for Security, Flexibility and User Convenience
This Electronic Health Records (EHR) firm specializes in delivering assessments and charting of patient encounters. Its flagship product lets clinicians maximize patient care with a touch screen capturing tool for coding and charting. 
The software communicates with hospitals and ties into their systems via a third-party gateway. Local community doctors use the EHR service to record, update, access and share patient data. For flexibility and uninterrupted care, EHRs must be always accessible to these authorized individuals. 
Providing a Unique Service for Sharing Healthcare Data
The EHR company has a unique ability to configure workflows for doctors based on how they practice, combined with an attractive user interface and health information exchange. It makes trading and viewing patient data easy for referring/referral doctors to review patient data in a meaningful way.
For all this sensitive and life-impacting work, their cloud solution must be extraordinarily stable and secure. 
Search for a New Cloud Hosting Environment
Prior to engaging Novatech, the company's cloud environment was split across hosting providers from Chicago, Atlanta and New York. "From a security and reliability standpoint, we wanted to bring everything into a single datacenter," said the company CEO.
The Managed Cloud transition led to a fully hosted solution with best-practice security and reliability for medical data, with "close-to-perfect uptime." The new hosting environment has the perfect combination of accessibility, security and cost-effectiveness in a Managed Cloud. 
Access that Meets Meaningful Use Criteria
Sharing data is part of quality healthcare, and the Managed Cloud has security and permissions in place for safe third-party access. 
Now the firm enables universal access to patient records for doctors via smartphone, tablet, notebook or through the hospital system. In turn, doctors can meet the criteria for meaningful use (a component of the American Recovery and Reinvestment Act.)
"We needed an environment to be stable ,as we were a developing company and preparing to scale. We started with a few servers and the relationship just grew," the CEO explained.
Read the full story of a Managed Cloud transition in healthcare.