Comprehensive Cybersecurity Is Vital. How Many Layers Does Yours Have?
July 12, 2021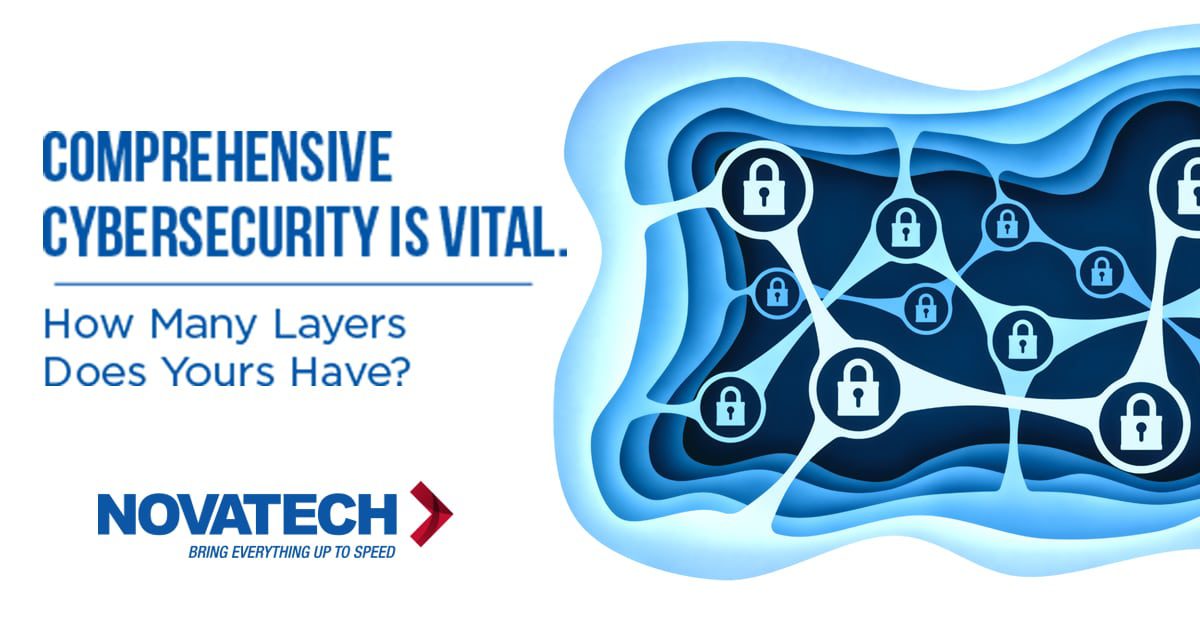 In the last few years, the risk of cyberattacks and other detrimental events has risen, yet company leaders aren't any better at avoiding them. In 2020, cyberattacks increased by 300%, and the average price tag for a data breach is now approaching $4 million.  
These issues are compounded by human error, from workers being phished, (more than 80% of reported security incidents) to IT staff missing system patching (60% of vulnerabilities). Business leaders must get really serious about cybersecurity — and address it at all levels and entry points. 
At Novatech, we have helped firms secure their operations for decades. Over that time, we have identified a multi-pronged approach that addresses all known points of exposure.  
In case you are thinking, "if people are the problem, why can't I just educate them?" we urge you to reconsider. Human error is the biggest problem, but it is far from the only one. Furthermore, cybercriminals are no longer disgruntled geeks working from home and hoping to raise some spare cash.  
Cyberattacks are now funded by countries, not personal bank accounts, and many wish to disrupt the U.S. economy by wiping out as many firms as possible. We recommend a 15-point cybersecurity approach that covers firms from the network edges to the core, plus the biggest threat — gullible users. Following is a summary of the approach.  
System/Network/Application Defenses 
Next Generation Firewall 
Deep-packet inspection firewalls import outside intelligence to enable not only port/protocol inspection and blocking but also app-level inspection, intrusion prevention and more. 
OS/Application Patching 
Proactive application of bug and security fixes to ensure operating systems and applications are as free of vulnerabilities as possible. 
Security Information and Event Management 
Combining management of both security information and security events, this approach delivers real-time analysis of application and network security alerts.  
Security Operations Center 
Computer experts and high-tech solutions monitor and assess possible system and network threats, responding immediately to thwart them. 
Internet Threat Defenses
Cloud Predictive Network Security 
This solution equips web URLs (e.g. www.mycompany.com) with extra safeguards such as content filtering and phishing protection. 
Geolocation Internet Protocol (Geo-IP) Tracking 
A filtering process that blocks network connections from suspect areas based upon geography as identified by IP (Internet) addresses. 
User-Level Defenses
End Point Detection & Response 
Endpoint Detection and Response (EDR), also called Endpoint Threat Detection and Response, is a cyber technology that continually monitors and responds to mitigate cyber threats. 
Multi-Factor Authentication (MFA) 
Computer users must present two different credentials from three options — something they know, like a PIN, something they possess, like a smartphone, and something intrinsic to them, such as a fingerprint.  
Real Time Privilege Management (RTPM) 
With RTPM, most users operate with "Standard," not "Admin" privileges, which can help mitigate a large percentage of vulnerabilities. 
User Awareness Training 
Ensures employees understand the dangers that can assault them and know how to respond appropriately. 
Virtual Private Network (VPN) 
A VPN creates a secure "tunnel" that enables users to securely send/receive data across shared or public networks.  
Data Protection
Advanced Threat Protection (ATP) 
A state-of-the-art security solution that defends against complex malware and cyberattacks that target sensitive data. 
Crypto Containment System (CCS) 
This "lockdown" solution, proprietary to Novatech, scans for encrypted files and isolates the drive shares (i.e. D) on which any reside to contain a ransomware attack.  
Dark Web Monitoring (DWM) 
Also called cyber monitoring, DWM monitors the dark web, a vast collection of websites not indexed as part of the World Wide Web where stolen data and credentials are sold. It any client data is discovered, swift damage control can occur. 
Data Backup & Recovery 
A fundamental activity that Novatech has elevated to the highest of best practices. It enables firms to recover from a vast array of data loss incidents, from viruses and hardware failures to physical disasters such as fire and flood.  
Ready for some good news? Business and IT leaders don't have to do this work themselves. Novatech experts have bundled all these protections into a single service, offered at a reasonable monthly fee. If you would like to learn more, at no obligation, call us at 800-264-0637 or visit https://novatech.net/what-we-do/managed-cybersecurity/.