What's Your Data Backup Strategy?
July 20, 2022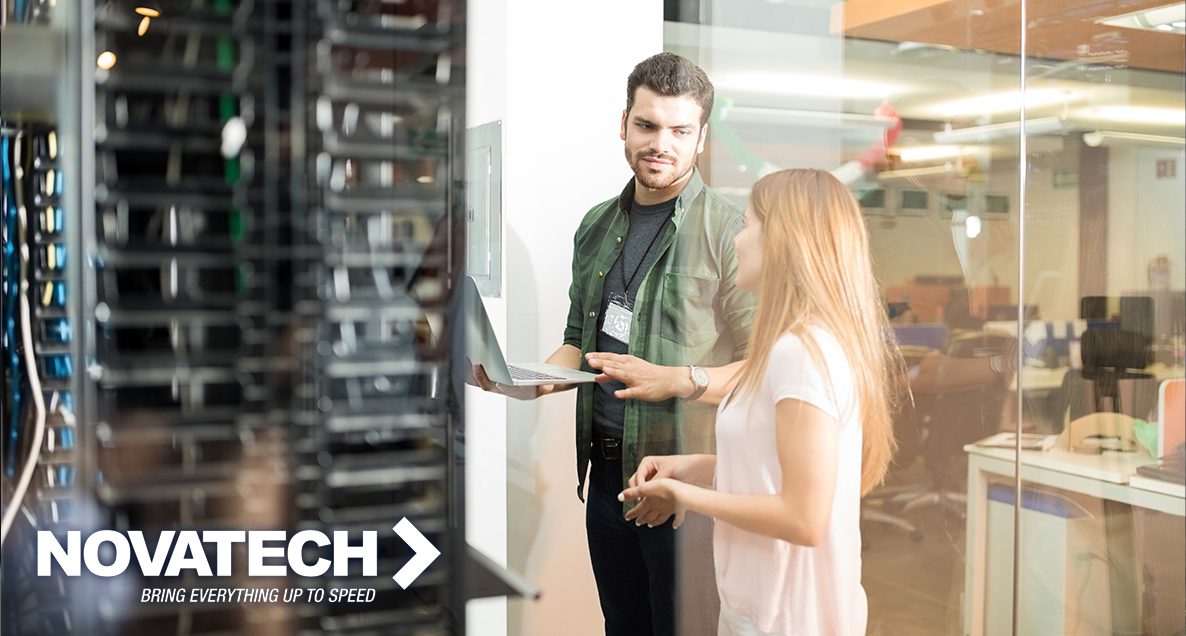 When considering data back up for your business, there can be a lot of questions. How much is enough, how to back up data, and what technology to use for backing up data?
At Novatech, we help companies protect their data with reliable data backup and assurance data will not be lost. Having solid backups is one of the key parts to a data backup strategy.
We will cover the value of data, disaster recovery, why you need to back up your data, and some common solutions available to back up your data.
Value of Data 
Google will offer free software to be used by millions free of charge. Your own mobile phone may appear to be listening to you, even when the microphone is not turned on. Why do we notice things like this today? The answer is the value of data. Google knows that if they offer free applications, they can collect data on users and come out with a better product.
Data for companies is just as important and valuable. Statistics state that only 41% of companies are doing daily backups. This means if there was a catastrophe, a large chunk of work would be missing and impact production.
What are data backups, and how can we implement them to protect our work?
Similar to saving a document in Microsoft Word, a daily backup will take a snapshot of all the files and all of the data, so if something crashes or breaks, it can easily be restored. What this means for most companies, is all the work you have paid to produce it will not be lost. Also, it means all of the invoices and contracts will be protected, as well as all of the spreadsheets, documents, graphics files, etc. your entire team has been working on.
What Are the Data Backup Types?
There are several types of data backup types you should be aware of, and there is a time and a place for all of these to be utilized.
Incremental Backup – This is the backup of all the files since the last backup timeframe.
Differential Backup – This is a backup that saves every file not currently backed up. It looks for a differential between what you have saved and what is available to save, and then backs up any missing files.
Automatic Backup – This is a backup established by timing. It happens without a technician getting involved, and is usually on a schedule, so your team doesn't have to remember to run the backup; it simply happens automatically.
Full Backup – This is a backup of all files. It tends to repeat over time, because the files you had before and are not used get saved again. This is more data-use intensive, and they take longer, but they are also more complete and tend to avoid data loss better.
Local Backup – This backup is where files are saved locally on a computer or on a server, and are not on the cloud.
Data Backups and Disaster Recovery
Data management is an important topic with natural disasters and malware threatening our businesses. Some may use just a simple flash drive as a solution or an external hard drive. These can easily be plugged into a local computer, and then you can use a backup tool to move data over, or do it by hand.
A backup strategy that depends on local backups like external hard drives and flash drives will work for many local companies that need a quick and easy fix. What is a backup really? Think of it as a copy from your computer. It can be for your whole computer, just an application, or some of your folders. Really, you can create a copy of anything you want.
You don't have to feel like you just have one copy either. You can create as many backups as you would like if you have the space. Create backups for a certain period of time. These are known as snapshots. As we will learn, having multiple snapshots can be very valuable.
Why Back Up Your Data?
Why is there so much emphasis placed on making copies of your machines? Business continuity is huge. Can you afford to be down for even a few days while you rush to recreate work? Hardware failure is another reason. Hard drives and solid-state drives won't last forever. Mechanical failure here may mean you are going to be rushing to the store to secure new hardware to work in conjunction with your backups. The important part is having a backup solution in place that you can access easily.
Many Types of Solutions
What are some of the most popular backup solutions? Many people like to use Microsoft Onedrive. This stays in the cloud and is accessible from any computer! Others will use a cloud backup service. A cloud service stores your backup on remote servers.
Veeam is a popular solution for cloud backups, and it is free to get started. You also have the option of virtual machines as well. These can be spun up in the cloud using services such as AWS or Google Cloud Platform. Why rely on all the data that you have at the site with you? Instead, we have virtual machines that clone your setup that are placed in the cloud. Business continuity won't be a problem when you have your data and work saved in many different places.
In Conclusion
In conclusion, securing your data is more important than ever. For enterprise-level companies, your data has become a target for ransomware and hackers looking to steal sensitive information. We looked at local and low-level solutions such as a USB stick or moving data to an external hard drive. For higher-level solutions, though, you can turn to Novatech.
We are adept at migrating data backups and moving your systems to the cloud. We have experience with virtual machines and making backups for your servers to make sure your business has little to no downtime.
Contact us today to discuss what your data backup solution will look like.