Novatech Announces New Atlanta Call Center
July 8, 2020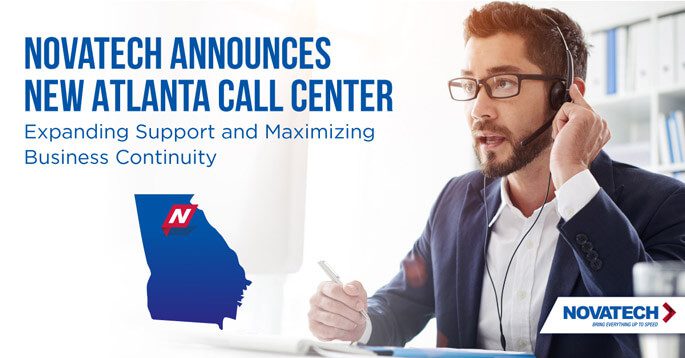 The facility leverages powerful call-center technology from NICE inContact, delivered through Novatech partner RingCentral, to guarantee 99.999% uptime in a fully cloud-based solution.
ATLANTA – July 8, 2020 – Novatech, Inc., the Managed Office experts, today announced the debut of a new Atlanta Call Center that will provide support for Managed IT and Managed Print customers. The center will both expand Novatech's support capabilities and serve as a redundant call center for the firm's primary call center in Nashville, Tenn. Similarly, the Nashville support center will be a failover site for the Atlanta location.
"At Novatech, we have long embraced the value of failover solutions for business continuity," said Novatech CEO Dan Cooper. "When the March 2 tornado outbreak hit downtown Nashville and nearby Cookeville, we hastened our plans to achieve maximum redundancy with the build out of the parallel site in Atlanta."
The center is already up and running, with plans to expand the workforce by 20 or more Managed IT and Managed Print experts to meet the firm's ever-accelerating support volume. This increase is propelled not only by Novatech's upward growth trajectory but also by the escalation of remote working among Novatech clients, who are becoming more reliant upon the firm for setting up new systems and supporting old ones.
The platform will be delivered by RingCentral, the Unified Communications as a Service leader that became one of Novatech's preferred partners earlier this year. Enjoying a user satisfaction rate of 99% and numerous "Expert's Choice" awards, RingCentral is the industry's most comprehensive telecommunications platform. It has established a global reputation for supporting businesses with the breadth of functionality they need to stay connected to customers and partners anytime and anywhere. With many companies having remote workforces during the global pandemic crisis, RingCentral is also perfectly poised to support the world's "new normal."
The facility's capabilities will be built on a state-of-the-art call center automation solution from industry innovator NICE inContact, running on the RingCentral platform to deliver a comprehensive call center service package. With a 15-year history of reliability and deployments in more than 100 countries, NICE
inContact is noted for its interactive voice response, quality management and omnichannel routing, which enables agents to connect to the customer across any channel, providing personalized, proactive service.
"This solution has already proven its value for Novatech internally, as it has allowed our support team to work remotely from wherever they were sheltering during the COVID19 lockdown," said Novatech President, Managed IT Dave Moorman. "Moving forward, it will be a key piece of our business continuity strategy ̶ and one from which our customers can derive great benefit, as well."
About Novatech, Inc.
The Managed Office Experts at Novatech empower businesses to increase productivity, lower costs, minimize risks and drive growth through Expert Guidance in consultation, design, implementation and support of cutting-edge business technology. The Novatech portfolio of Managed Office solutions liberates clients to focus on running their business – leaving the tech to an award-winning provider with over 25 years of industry-leading experience. For more information about business technology solutions from Novatech, visit Novatech.net and follow @novatechnet on social media for all the latest news.