RingCentral – Empowering business communication
Novatech, a recognized expert in cutting-edge technologies, brings your business RingCentral's advanced and complete set of Voice Over IP (VoIP) features. With RingCentral's powerful cloud-based communications platform, we make sure you have a business phone and communications platform that is smooth and effective.
Novatech has helped businesses get the best business technology for their company for over 25 years. Our services include Managed IT Services, Copiers, Printers, and Unified Communications (like RingCentral). We are proud of our partnership with RingCentral as it has helped many of our clients save money compared to older phone systems and has allowed them to take advantage of a modern Cloud-based phone system.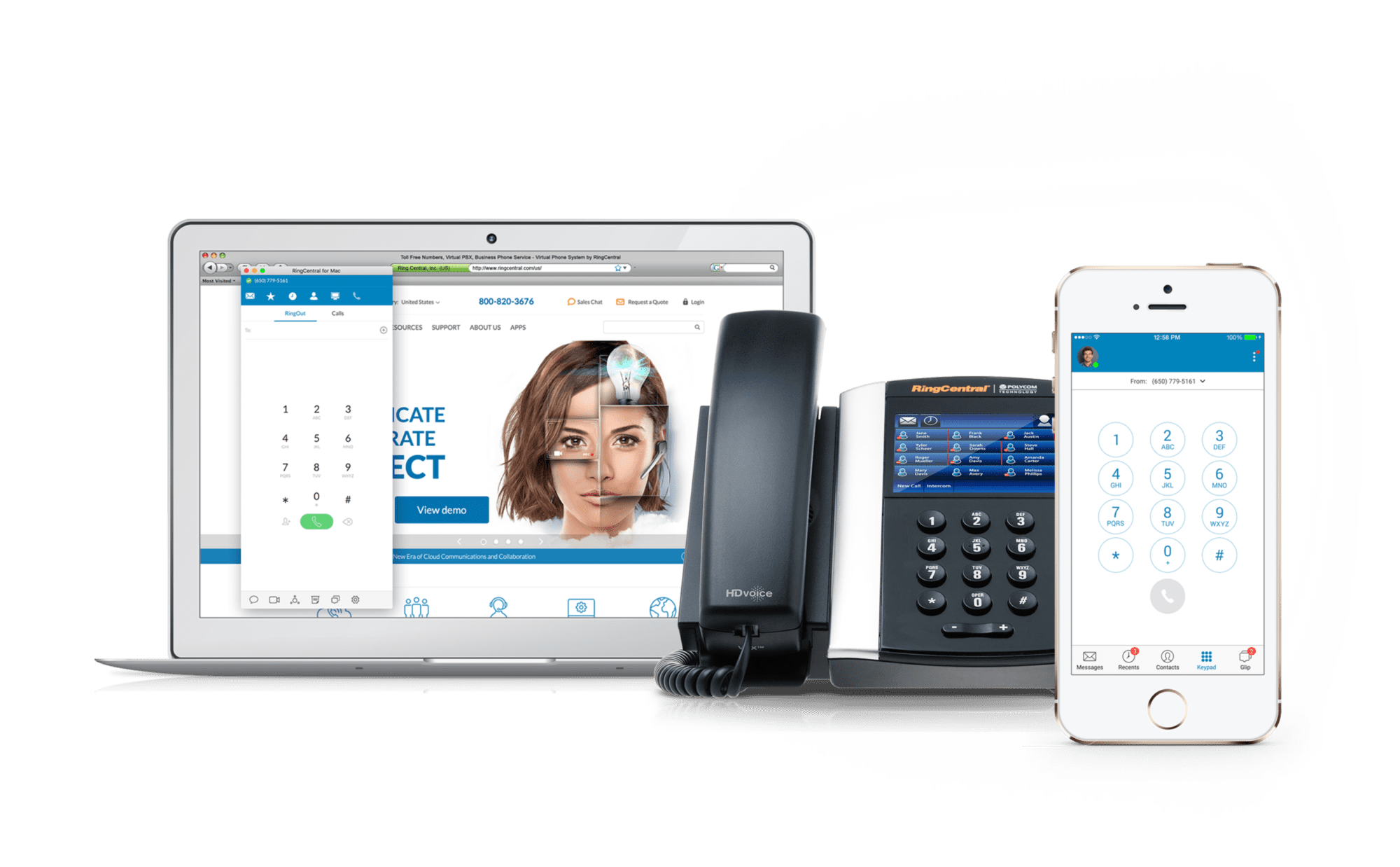 Use unified communications to your advantage
You can get more than just a business phone system with RingCentral. This cutting-edge app gives businesses a set of tools for communication all in one place. Call, print, or chat—you can do all of these things with a single, easy-to-use application.
Understand the core functions of RingCentral:
Mobile calling: With the RingCentral for Teams mobile app, workers can talk to each other no matter where they are. You can make and receive RingCentral calls right from the Microsoft Teams mobile app.
Global Coverage: Connect offices and teams that work in different places around the world with coverage in 46 countries.
Advanced Calling Capabilities: Get access to advanced tools like heads-up displays, call queue management, whisper, monitor, and barge.
Cloud Connected: Cloud VoIP is a high-quality phone service that includes everything. You can use it anywhere you have an internet connection. VoIP from RingCentral gets rid of the need for hardware on-site.
Expect easy set-up with Novatech and RingCentral: As part of our Managed Office suite, RingCentral's VoIP solution can be set up in minutes, letting you join and talk right away.
Customer-Focused Features: Use interactive voice response (IVR) and call lines to give your customers a better experience. This is a more advanced initial menu that allows clients to self-select into the right areas of your company.
Built-in analytics: With RingCentral, you can get real-time data and dashboards that you can change to help all teams, from IT and sales to marketing and HR, make better decisions.
Extensive Global Management: Use multilingual IVRs and customized voice prompts to keep offices around the world and remote workers in touch.
Any team, anywhere, can work together
RingCentral is made to change based on what you need. Your workers can set up safe business lines on their own devices if they can easily add new business phone numbers. You can keep the numbers you already have or get new local, international, or toll-free lines. As part of the installation and service, Novatech can even help you port your current numbers into the RingCentral platform.
Integration with Business-Critical Apps – Novatech knows that every business is different. So, we help you add the phone features of RingCentral to your best business apps, such as Google, Microsoft, and Salesforce.
At Novatech, we not only sell RingCentral to our clients, but we also use it ourselves. When you call our numbers, you are experiencing the quality and simplicity of the RingCentral platform. Our team has set up many of these VoIP phone systems, so we can help ensure the setup goes smoothly for your company.
Business Phone Systems: FAQs
A business phone system is a network of hardware and software that allows for complex telecommunication solutions, helping businesses manage internal and external communication. They've evolved from traditional on-premise landline setups to cloud-based VoIP solutions, enhancing flexibility, scalability, and cost-efficiency.
Cloud-based phone systems or VoIP (Voice over Internet Protocol) systems operate by transforming voice signals into digital data and transmitting them via the Internet. They offer all the functionality of a traditional Private Branch Exchange (PBX) system, such as call routing and recording, without the need for physical hardware and infrastructure. This makes them more cost-effective and scalable to accommodate growing businesses.
When choosing a cloud communications solution, consider these aspects:
Reliability and SLAs: Select a provider with strong Service Level Agreements (SLAs) and a proven track record of system reliability.
Costs: A good VoIP system should offer cost savings in terms of equipment procurement, maintenance, and upgrades.
Advanced Features: Ensure the system can offer advanced telephony features to adapt to your business's evolving needs.
Security Practices: Choose a provider that prioritizes data security to safeguard your valuable company communications.
Integration Capabilities: A great phone system should seamlessly integrate with your current business applications to streamline workflows.
Scalability: As your business grows, so should your phone system. Choose a solution that allows for easy scalability.
Selecting the right phone system is about finding a solution that can add value to your business, enhance productivity, and remain cost-effective.
Yes, RingCentral allows you to set user permissions and access controls to regulate who can access your system data. You can often customize these settings to fit your business needs, ensuring only authorized personnel can access sensitive information.
Remember, while providers invest heavily in security measures, your business should also implement good cybersecurity practices to further protect your data.
Simultaneously Expand &
Simplify Your Communication Options

With RingCentral's All-in-One Functionality
Let's
Talk