Guide to the "People" Piece of People, Process, Technology
March 29, 2022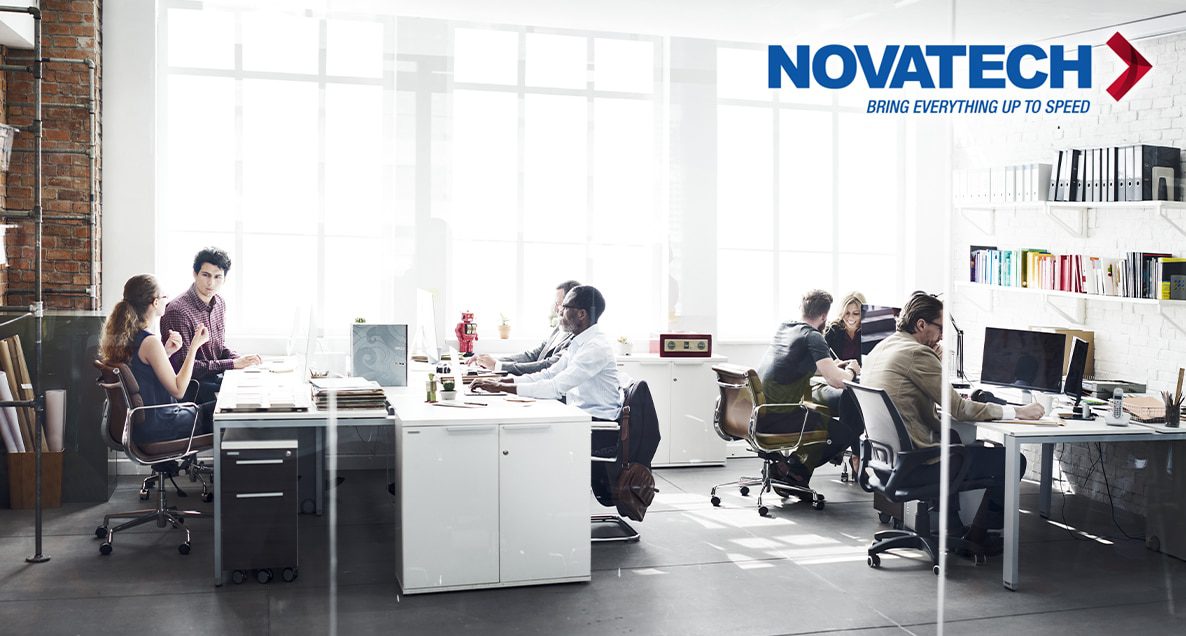 Who hasn't heard of the people, process, technology (PPT) model used to describe any number of profit-building strategies and frameworks? It's a classic way of talking about business building blocks, from workforce management to IT management and more. We agree PPT is still relevant and refer to it often when we talk about today's Managed Office.
There's a reason "people" comes first on that list. We'd like to acknowledge the human side of the Managed Office, including end users, in-house IT personnel, departmental and senior-level managers, and of course, the crew on the provider side.
People Still Rule in People-Process-Technology
As greater technical capability became available for businesses, the harder it became to manage it. A few companies responded to the challenge, like Novatech with the Managed Office model. The Managed Office concept evolved out of digital transformation and PPT.
Managed Office success depends on the technology portfolio, the people who service it, and on the satisfaction of the people who use it.
Characters in this technology story:
Company leaders, often CEO, finance, IT
Office or facilities managers
Procurement management
In-house IT, operations
End users: employees, customers, vendors
Partner teams
You probably work with some of these roles daily and may hold one of the titles yourself. We recognize there are faces like yours on the other side of the screen or the phone call. A customer is always a person, and we treat you that way.
Business Functions and Business Technology
Next let's look at business functions and their tech needs. Human stakeholders often cluster around certain business processes, the third leg of the three-legged PPT stool. Most fall into one of these buckets, even across verticals.
Sales
Marketing
Finance
Customer Service
HR
Operations
So, who's joining the conversation from your side? (And to be clear, this isn't intended as a case of "taking sides" but just understanding the teams.) Who has a stake in the outcome? Of course, the whole business ultimately does, but let's get more granular. What functions or employees are specifically impacted by the technology you're talking about for now and for the future?
Switching Technology Providers Can Be Emotional
Because of the "people" of PPT, human behavior must be taken into account when adopting a Managed Office. Very human reactions to technology change are emotion and stress, both on the part of end users and the in-house IT team.
Dealing with services and systems day-to-day for an entire business of employees, locations, data and security can be nerve-wracking and emotional in its own way. Introducing change into the mix can make the situation more charged and fraught. (In fact, if you're struggling, this article might be helpful: "Ten Common Concerns about Managed IT Agreements.")
A Managed Office provider who's experienced in leading transitions can help steady and guide the journey without upsetting people.
When Bad Tech Leads to Low Morale
Another example of business technology as a human issue happens when it affects the morale of end users. When someone can't do their job, they become personally dissatisfied, and morale goes down.
Employees go home upset, because now they've got more to do tomorrow due to what they couldn't get done today. In extreme cases, employees quit because dealing with technology is so stressful.
Now you have a human resource issue, too, with activity and productivity going up or down based on the success of your business IT. All this misery can be corrected through a Managed Office model, but there's one more key role on your side of the house needed for a successful program.
Your MVP: Personal Point of Contact for Managed Office Provider
As far as your team goes, there's one person who has an especially important role in the success of the Managed Office. This is someone assigned to be the point of contact and coordinate with the external Managed Office team.
Performing the job may be as simple as signing in a technician or telling the help desk the details of a problem end users are experiencing. Often this person is an internal IT employee who works with us to ensure we touch each PC, or that we can set up the backup solution in the server room.
An experienced provider will ease the process of Managed Office turn up, activation and onboarding. Once up and running, your team and your MVP don't really have to do much other than help the technology partner coordinate with the business and end users to make sure everything runs smoothly.
The point is, with a Managed Office, people-related issues won't be concerns anymore, and that opens the door for business drivers like productivity to take off.
The Professionals Who Bring Managed Office to Life
On the partner side, the team includes a number of specialists trained in Managed Office components. A good partner brings nationwide bandwidth, too, with consistent staffing quality across locations.
These are key positions on the team of your Managed Office provider:
Technology Account Managers
Copier/Printer Salespeople
Managed Office Sales Executives
Manage Print Specialists
Wide-format Print Specialists
Production Print Specialists
Software Specialists
Managed Office Teams Receive Extensive Training
The people assigned to your business have been extensively trained to prepare them to work with office technology. After hiring, our technicians, account specialists and others receive some of the best education available in the business technology space. The in-depth daily training program runs six weeks and includes live classes, field videos and assignments.
New Novatech hires receive up to 30 hours of thorough training on:
Managed IT
Business cybersecurity
Software solutions
Managed print
The Novatech Managed Office leadership team each personally teaches 10 to 12 one- to two-hour sessions during the six-week program.
The Difference a Good Business Technology Team Makes
The point of this is to show you what a good business technology team will look like. We put a lot of thought and investment into our people, because that's what ultimately sets us apart.
All our training well prepares us to collaborate on a roadmap and get your business technology up to speed. To keep it there, we schedule face-to-face meetings to go over metrics and other findings as a group.
Your Technology Advisor will establish a regular meeting schedule to review service level performance, examine your technology utilization, answer questions, and most importantly, share insight into industry trends and emerging technologies and services. You won't have to worry about coaxing your other tech vendors to join, because they will all be in the room already.
Your Team. Our Team. One Team.
People. Process. Technology. No wonder this model has stood the test of time. Your people, our people and a Managed Office — it's a great combination. Want to talk to people who can build yours? Just complete the short form on this page.