Nationwide Managed Office Provider, Novatech, Announces its Partnership with DocuWare
March 1, 2023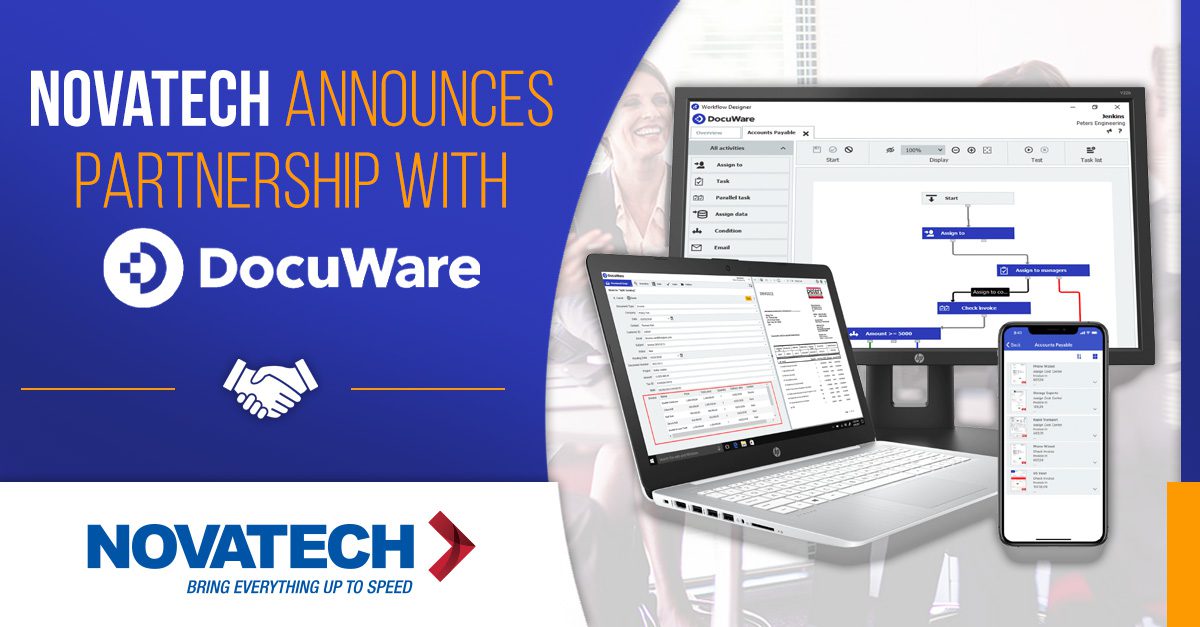 NASHVILLE, TN – March 1, 2023 – /PRNewswire/ Novatech, the nationwide Managed Office provider, is pleased to announce its expanded partnership with DocuWare, a global leader in Enterprise Content Management (ECM) software solutions. This strategic alliance will enable Novatech to expand its ECM capabilities and deliver a comprehensive suite of Document Management solutions to its customers across the United States.
Novatech has been providing innovative business technology solutions to its clients for over 20 years. Their Managed Office portfolio includes Managed IT, Managed Print, Managed Cloud, and Managed Security solutions. By leveraging DocuWare's ECM solutions, Novatech can now provide a more enhanced collection of Document Management solutions to its customers.
DocuWare offers a suite of software offerings that automate document-driven processes in organizations of any size, across all major industries. DocuWare's ECM solutions are designed to help businesses digitize and automate their document management processes, increase efficiency, and reduce costs.
NOVATECH SENIOR LEADERSHIP WEIGHS IN:
"We are thrilled to be partnering with DocuWare, a company that shares our values of customer satisfaction, innovation, and excellence," said Dave Moorman, President/CISO of Novatech.
"The partnership with DocuWare will enable Novatech to provide its customers with an even broader range of document workflow solutions" said John Sutton, Novatech's Vice President of Software. "From advanced document capture, workflow automation, and digital signatures. Novatech's customers will benefit from the ability to store, manage, and retrieve documents more efficiently, securely, and cost-effectively."
A WORD FROM DOCUWARE:
"The team at Novatech are professional and passionate and these are the qualities that will make them such an excellent Partner," stated David Reinert, Regional Sales Director at DocuWare. "Each new Partner has their own unique strengths and Novatech is no exception. "By combining Novatech's expertise in Managed IT Services, Cloud Computing, and Document Solutions with our ECM solutions, we can provide even more value to our customers across the United States."
The partnership between Novatech and DocuWare represents a powerful combination of expertise and technology that will help businesses in the United States to streamline their document management processes, improve productivity, and achieve their business goals. For more information, please visit www.novatech.net.
About Novatech – Founded in 1998, Novatech, Inc. is a nationwide business technology provider. The company eliminates the need for multiple managed service providers, hardware dealers and software integrators. Offering a full Managed Office portfolio, Novatech simplifies and streamlines the technology experience for today's business. Learn more at: www.novatech.net.
About DocuWare – Headquartered in Germany & the US, DocuWare provides document management and workflow automation solutions. Together with its 800+ strong partner network, DocuWare has helped approximately 15,000 customers across 100+ countries simplify their work through digitizing, automating, and transforming key processes.