The Top 7 Copier and Printer Accessories for Graphic Designers
October 16, 2023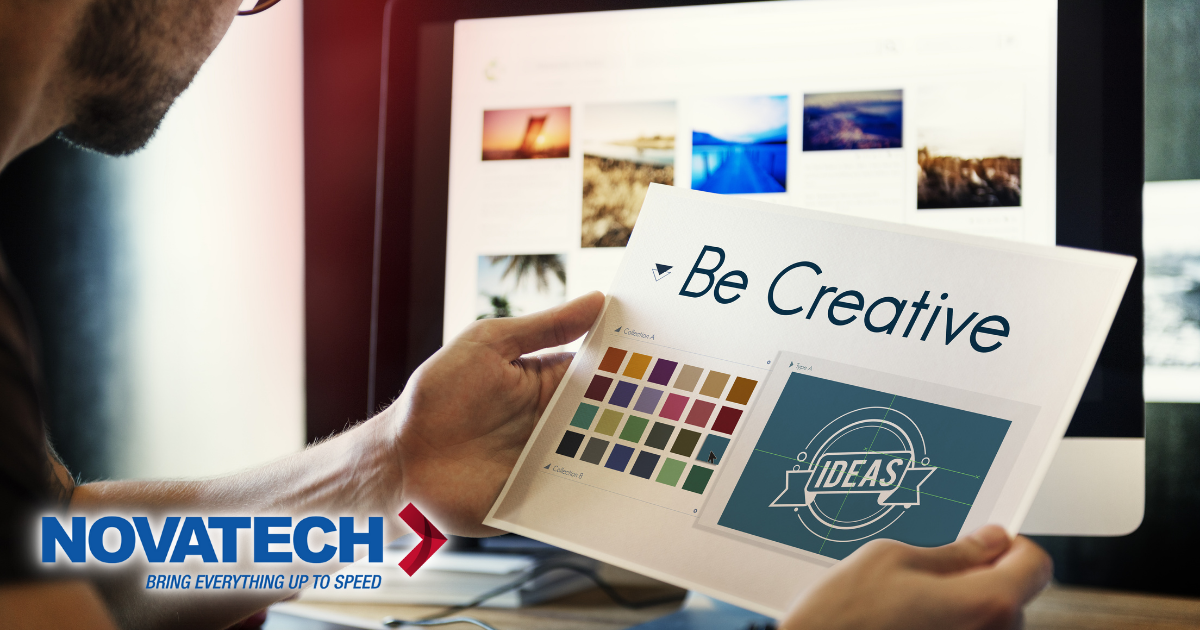 Having the best tools for your copier and printer can make the difference between good and great graphic design work. We've put together a list of the top 7 copier and printer accessories that every graphic artist should have, focusing on production print copiers and printers, to help you improve your projects.
Novatech has helped graphic designers or highly efficient marketing teams get the best output possible using the best available hardware and software solutions in the market today.
In this article we will cover factors that affect quality, like Fiery, paper versatility, high-quality paper, duplex printing, color calibration, and finishers, to get the best results with your creative work.
Firing Up Your Projects with Fiery Controller
One of the key components for enhancing the print quality and color management in a professional printing setup is the Fiery print controller. Graphic artists aiming for consistent color accuracy and detailed sharpness in their work can't ignore the impact of a Fiery.
Examples:
Fiery's advanced color and imaging offers comprehensive color management tools.
Fiery Color Profiler Suite ensures that color accuracy is maintained across all devices, from display screens to the final print.
Use Case: When a brand is very particular about its color palette and wants its marketing materials to be consistent across all print mediums, a Fiery ensures that the same shade of a specific color, say a signature blue, remains unchanged whether it's a business card, a brochure, or a large banner.
Versatility with Substrate Options
Your design's output is also largely influenced by the substrate you're printing on. Today's modern printers offer a plethora of substrate options ranging from various types of papers to more unconventional materials like canvas, vinyl, and even certain metals. Being able to print on a wide range of substrates not only enhances your project's visual appeal but also its functionality.
Examples:
Fine art prints come alive when printed on canvas or high-quality photo paper, highlighting the depth of colors and the intricacies of the design.
Advertisements for outdoor use, like banners or billboards, may require vinyl or weather-resistant materials to ensure longevity.
Use Case: Consider a luxury brand launching a new product. For their indoor promotions, they might choose a rich-textured paper that exudes exclusivity. For outdoor advertisements, a glossy, durable material might be used to capture attention and withstand the elements.
In graphic design, it's not just about having the best design software or the most talented designers on board. The output, the final print, matters immensely. It's the tangible representation of all the hard work and creativity. By ensuring you have the best accessories and tools for your printer, and by understanding the nuances of each, you can bring your vision to life in the most vibrant and precise manner.
High Quality Paper
The canvas on which a pattern is printed is an especially important part of print quality. High-quality paper can make a big difference in how your output looks in the end. Look for paper with a smooth surface, good color reproduction, and heavy weight when you're picking paper for the highest color quality results.
Examples:
High-brightness laser printer paper gives you bright colors and clear lines.
High-quality paper for business cards, invitations, and more that look professional.
Use Case: If a marketing firm is making a promotional brochure for a client, the brochure will look more professional and high-end if it is printed on heavyweight, high-quality paper.
Duplex Printing Unit
Graphic artists often work on projects like brochures, booklets, and catalogs that need to be printed on both sides of a page. A duplex printing unit lets you automatically print on both sides of the page. This saves time and cuts down on paper waste.
Examples:
Xerox VersaLink C8130/C8135/C8145/C8155 line duplex unit for efficient double-sided printing.
Use Case: A print shop that is making a catalog for a store will use a duplex printing unit to make double-sided pages quickly and efficiently. This will cut down on production time and waste.
Color Calibration Tools
In graphic design, getting the colors right is very important, and nothing is more annoying than making a design only to find that the colors are wrong. With the help of color calibration tools, you can make sure that the colors you see on your computer screens come out the same way on your laser printer.
Examples:
X-Rite i1Display Pro is used to calibrate monitors so that colors are shown correctly.
Datacolor SpyderX Pro is used to adjust the brightness, contrast, and color accuracy of a device.
Use Case: A freelance graphic artist working on a logo for a client will use color calibration tools to make sure that the colors they choose on their computer screen match the colors in the final printed product. Color calibration can also be achieved through print profiles and print drivers to match Pantone color swatches.
Professional Scanners
Any graphic artist needs to be able to do high-quality scanning. Whether you are digitizing artwork, scanning old photos, or importing ideas, a professional scanner will make sure that your work is shown in the best way possible.
Examples:
Epson Perfection V850 Pro has a high sharpness and color depth for scanning.
With the Canon CanoScan LiDE 400, you can scan quickly and in high quality, and the software is easy to use.
Use Case: A design firm that is helping a company rebrand may need to scan old printed materials or photos to use in the new design.
Finishers
If you want your prints to look more professional, you might want to buy your laser printer with advanced finishing choices. These can do everything from making booklets to punch holes, giving your drawings more durability, protection, and style.
Examples:
Use staple finishers to make booklets, brochures, and slideshows that look professional.
Units with a hole punch make it easy to tie and organize printed materials.
Use Case: A print shop will use advanced finishing options to make professional, easy-to-use materials for workers for a local business that needs custom training manuals.
To take your design to the next level, contact Novatech.
As a graphic artist, you need to make sure your production print laser copier or printer has the right tools and accessories for you to do professional, high-quality work. Buying these top 5 accessories will help you improve your process and take your projects to a whole new level.
Contact Novatech if you want to improve your office with the best copier and printer accessories. Our team of experts can help you find the right tools for your needs and give you choices for copier leasing to make the process easier to handle.
Don't be satisfied with average results. Instead, let Novatech help you get the great results you deserve. Contact us right away to talk about what your office needs and to find out how we can make your graphic design projects stand out.