Brother Printers & Copiers: Defining the
Future

of

Business Copier Solutions

In the rapidly evolving landscape of office technology, Brother has consistently been a reliable presence, demonstrating leadership and innovation in the field. Brother has excelled in making high-quality laser printers and MFP's.

Dating back to its inception in 1908, Brother has created a unique niche within the office equipment industry, providing tailored solutions to departments and organizations that require compact devices for distributed teams, without compromising on product consistency.
Navigating the Brother Printer and MFP Selection
Selecting the appropriate printer may seem daunting, especially if you're unfamiliar with the products. At Novatech, our team is expertly trained to guide you in choosing the copier that aligns best with your business needs. We derive satisfaction from understanding your business requirements and recommending the technology that propels you toward your business objectives.
Brother offers a compelling blend of compact design, productivity, security, and efficiency. The selection process may seem complex, but with the right guidance and understanding of your unique business needs, the perfect solution is within reach.
At Novatech, we are committed to helping you navigate this journey and ensuring the technology we propose aligns with your enterprise or small office business objectives. Novatech will ensure the print jobs you need to print can be efficiently produced on your new Brother printer or copier.
Brother: A Synergy of Compact Design and Efficiency
Brother's power lies in its ability to engineer devices designed for seamless desktop integration, catering specifically to smaller teams or the home office with a monthly printing volume of less than a box of paper.
Novatech takes immense pride in its partnership with Brother, offering comprehensive product support, print management, and cost-per-print service agreements for all Brother devices.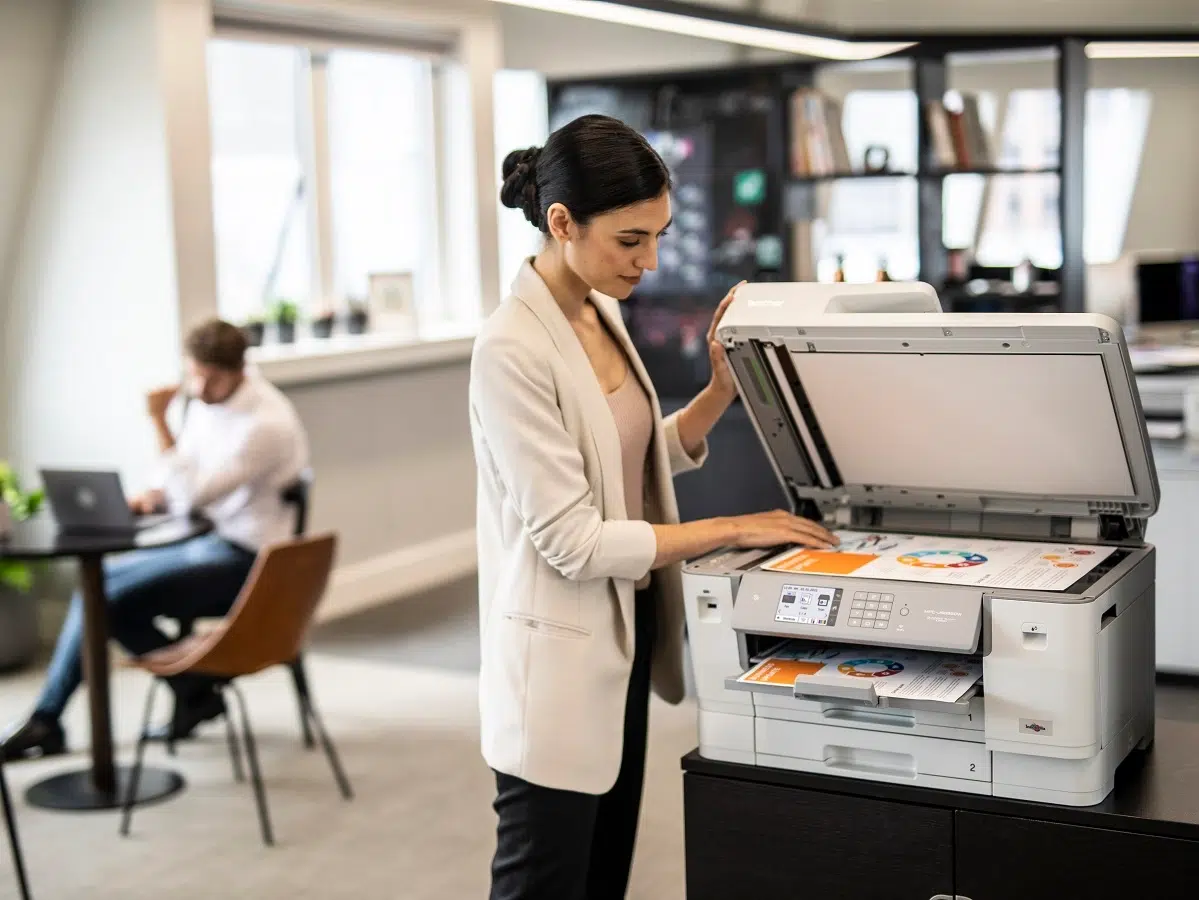 The Compact Powerhouse: Brother
Appearances can be deceptive, and Brother printers and copiers are a testament to this adage. Despite their small physical dimensions, these devices deliver robust productivity, a characteristic that has earned them a loyal market following.
Organizations across industries have recognized the multifaceted benefits of Brother devices, from their advanced features to the cost savings they yield, and have consequently incorporated them into their print fleet.
Security: A Non-negotiable for Brother
In today's cybersecurity landscape, protecting network integrity is a top priority for IT departments. Peripheral devices introduced to the network must be equipped with stringent security measures to safeguard enterprise computers and servers.
Brother acknowledges this need by providing features such as PIN printing and access control measures, reinforcing the security perimeter against potential cyber threats.
FAQ's
Brother devices adhere to the 801.1x security standards and support SNMP v3. They utilize IPPs to encrypt data and traffic as it traverses the network. Importantly, these devices do not possess an internal hard drive, thus eliminating post-use data extraction risks. Furthermore, they offer secure print features and seamlessly integrate with Active Directory.
Absolutely. We often find clients leveraging one brand for robust printing needs while choosing Brother as their standard for desktop printing.
This question fundamentally hinges on whether you have scanning or copying needs. If so, a copier/MFP is necessary. However, if printing is your sole requirement, a single-function Brother device would be more than sufficient.
Brother offers world-class laser printers, Multi-function printers (MFPs), and color laser printers, with a small footprint and affordable toner costs.
Trusted Partner

with 25+ Years Serving Customers

Let's evaluate your current technology with a professional assessment.
Let's
Talk