Managed IT Can Go Anywhere Your Team Can
March 3, 2020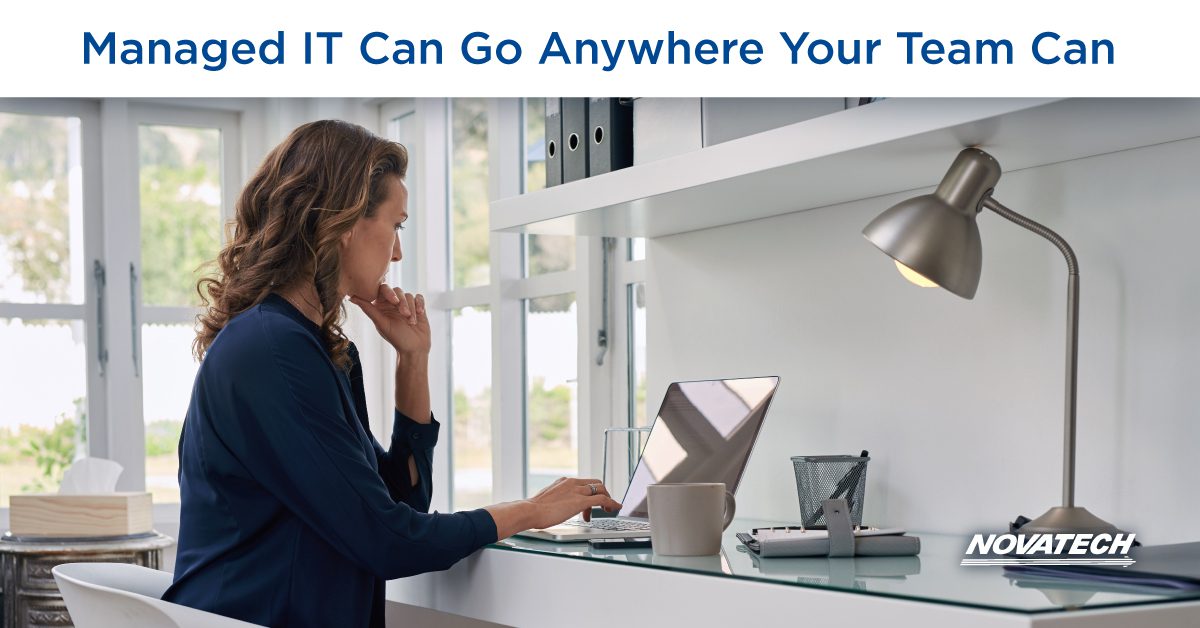 For many business professionals, the concept of "managed technology services," aka Managed IT, conjures up images of tech support workers in cubicles resolving IT outages for on-premise servers, desktops and other computing devices. These same professionals may assume Managed IT has become obsolete (or at least outdated) in the era of cloud and mobile computing.
In reality, nothing could be farther from the truth. Managed IT is, at its core, a solution that ensures technology works like it should—that companies and their teams always have the support they need to be productive and meet company goals. There is nothing about the term that suggests it is reserved exclusively for on-premise environments.
So, how has this misconception arisen? As cloud and mobile computing came to prominence, companies that offered these services (and the research firms that covered them) used these inherently descriptive names to differentiate them from on-premise solutions. Therefore, it's the term "on premise" that is limiting, not the concept of Managed IT.
Once we disconnect these terms from one another, we can view Managed IT as what it truly is — a service that greatly enhances uptime, ensures problems are found and resolved seamlessly with no service interruptions, and supports user enablement no matter where the activity might take place within the organization's IT structure.
In fact, since the vast majority of providers can accomplish nearly all their "magic" through remote connections, Managed IT is one of the most device-agnostic offerings ever invented.
A top-notch managed IT provider can support any user, working on any computing device at any location—on an office desktop, a home laptop, or a mobile device; at their office or their child's Little League game – and keep their data secure on all of their devices. (Novatech blankets its Managed IT customers in support.)
Assuming a provider offers this level of ubiquity, the main difference between one Managed IT provider and another isn't where the IT is managed. It's how effectively the management takes place. If you are not currently working with Novatech, ask your current Managed IT provider to answer the questions below. (We'll explore them in more detail in a future article.) What's your Uptime Guarantee?
How soon after third-party patches come out do you apply them to computing systems? Do these updates cause workplace disruption?
How often do you perform backups, and how long does it take to restore them? Can users restore files selectively (for example, if they accidentally erase them) or is restore only a feature for major outages?
Are your IT support teams available 24/7, and do they provide the same level of service for every device within the corporate ecosystem? (Note that "service" will likely exclude cellular connections. These are specific to your mobile provider and generally beyond the scope of a Managed IT contract.)
Can you onboard my new personnel regarding technology and provision their IT?
Will you send someone to my premises to fix issues if you cannot manage them remotely?
If a Managed IT provider hesitates on any of these questions, you are not 100% satisfied with your current  service, or the company doesn't support you on every computing device—mobile, desktop, laptop, server and beyond—I invite you to call us at 866.264.0637. You can also chat with us directly at www.novatech.net.
I am confident you will like our answers better than those of your current firm.