The Digital Whiteboard Revolution: Elevate Your Collaboration
October 6, 2023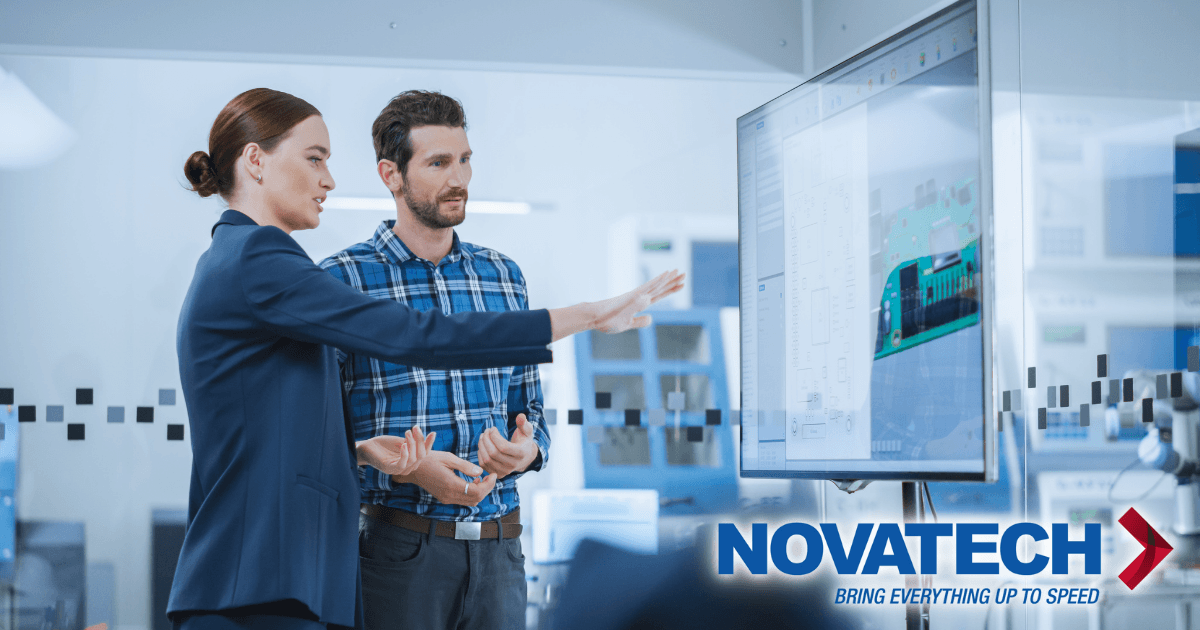 If you've ever wondered how to elevate your office meetings, brainstorming sessions, or presentations, digital whiteboards are the way to go. And guess what? We specialize in them! Novatech works with the leaders of the digital whiteboard space like Sharp and Logitech and we can help create custom solutions to fit your conference room or shared space areas.
What's a Digital Whiteboard?
Think of the traditional whiteboard you have in your conference room, but turbocharged. A digital whiteboard lets you draw, present, and interact, but with the added magic of technology. Imagine highlighting key points with digital markers, showing videos right on the board, or even having a live video call with your overseas team. And the best part? Everything you do can be saved, shared, and accessed later.
Sharp AQUOS BOARD
Novatech proudly presents the Sharp AQUOS BOARD as one of its flagship products. This isn't just any digital board; it's an experience:
Interactive Touch Screen: It responds to touch just like your smartphone. Whether you're drawing diagrams or showing off a new design, the board's interactive screen makes everything effortless.
High-Resolution Display: No more squinting. The Sharp AQUOS BOARD boasts crystal clear visuals, ensuring everyone in the room can see every detail.
User-Friendly: It's built for everyone, from tech enthusiasts to those a bit wary of new gadgets. In no time, you'll be using it like a pro.
Boost Your Meetings with Logitech Videoconferencing Solutions
In the current business climate, face-to-face meetings aren't always possible. But why miss the personal touch? With Logitech Videoconferencing Solutions, brought to you by Novatech, you can have meetings that feel real, even if your team is spread across the globe:
Clear Video and Audio: Say goodbye to choppy videos and echoing voices. Logitech ensures your calls are crisp and clear.
Seamless Integration: It fits right into your digital ecosystem. Whether you're using the Sharp AQUOS BOARD or other platforms, Logitech plays well with them all.
Reliable: Important client meeting? Team brainstorming session? You can trust Logitech to not let you down.
Why Choose Novatech?
Just as important as the products you choose are the partners you choose to help you get the most of your technology investments. Novatech has a team of reps who have been trained in the technology you are looking at so that you can make the most of your IT and marketing budgets.
Here are some of the ways we can enhance your digital whiteboard experience:
Expert Installation: We don't just drop off the gadgets at your office. Our team ensures they're set up perfectly.
Training: Worried about the learning curve? Our experts will guide your team, ensuring everyone can make the most of the tech.
Continued Support: If there's a hiccup down the road, Novatech has got your back.
Offices are more than just four walls; they're the hubs where ideas are born and plans set into motion. With the right tools, like the Sharp AQUOS BOARD and Logitech Videoconferencing Solutions, you can supercharge your workspace. Trust in Novatech to provide you with the best, and watch your office productivity soar. Ready to take the leap into the future? We're just a call away.