Production Print Automation
When it comes to having a print shop, you could say that the tools and equipment you use are the most important part of what you do. They become the lifeblood of your business. This is true of your copiers as well as advanced software to help your team be more efficient and deliver a higher quality product to your clients.
As an experienced partner to the printing industry with more than a quarter of a century of experience helping print shops, we've found that there are three main keys to success in production print automation: speed, cost-effectiveness, and print quality.
It's important to remember that cost-effectiveness in a printing process is a complex idea that goes beyond the simple goal of lowering the cost per print. We work closely with print shops and take the time to fully understand their unique business models, operational challenges, workflows, and special needs. With this information, we create a customized strategic roadmap that will increase their chances of long-term success and growth.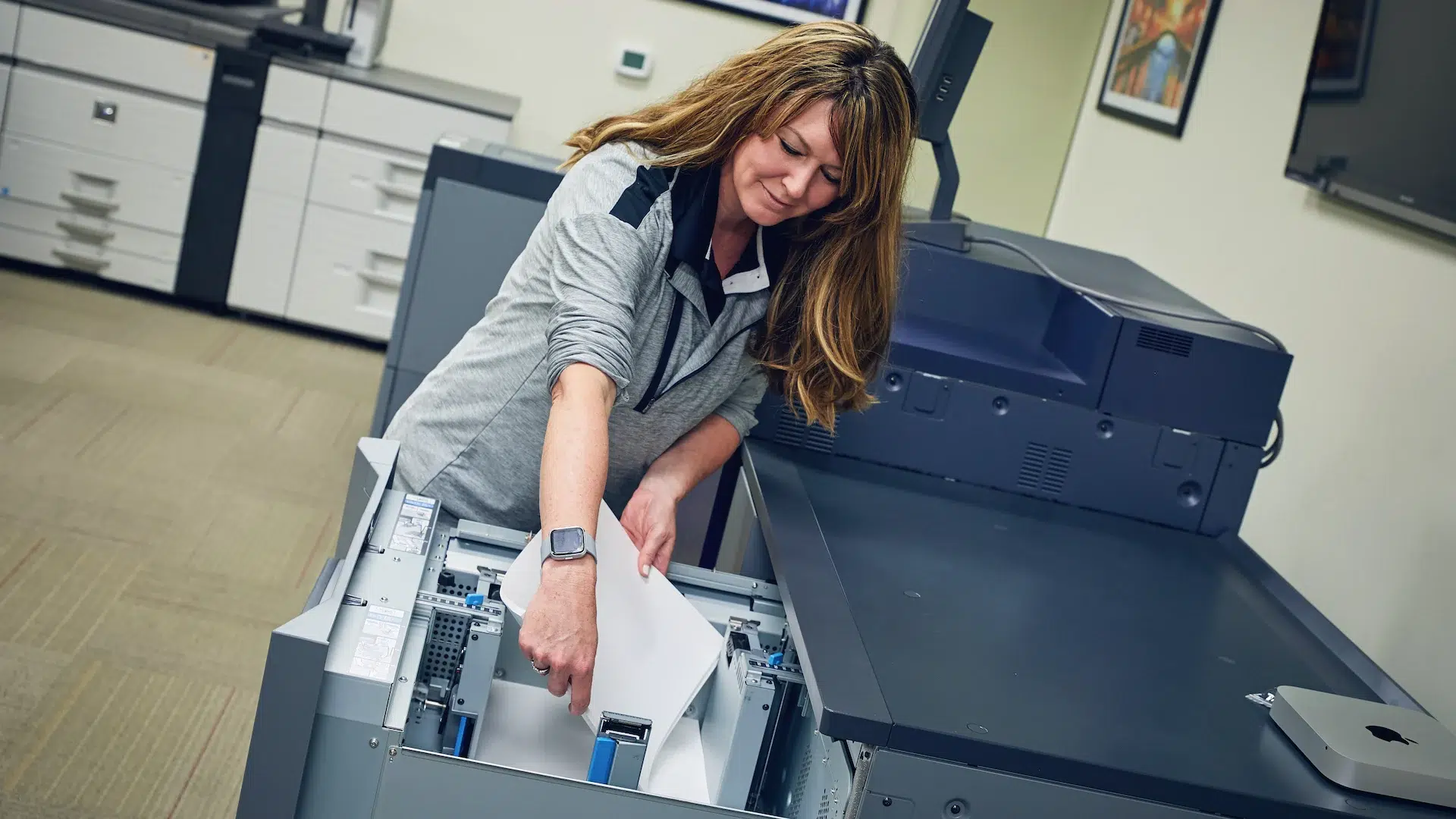 When it comes to Production Print Automation, we're happy to work with industry leaders like:
PageDNA
The PlanetPress Connect
efi MarketDirect StoreFront
These cutting-edge options all have different features that can help your print shop be more productive and run more smoothly:
Fiery Workflow Suite: This all-in-one software suite is a powerful workhorse that lets you take full advantage of web-to-print efficiencies, improve your prepress functions to reduce errors and waste, simplify variable printing, manage color profiles accurately, centralize job management for better control, speed up processing time, and get data-driven insights from detailed reports to keep improving and optimizing your print processes.
PRISMAprepare: This innovative solution was made by Canon. It makes it easier to combine multiple files into a single document, has tools for de-speckling and image correction, makes it easy to edit and straighten documents, and has advanced tools for splitting and merging colors to precise color percentages. With a structured licensing model and an interface that is easy to use for people who run production devices, PRISMAprepare lets you choose only the features that your print shop needs.
PageDNA: Designed mainly for web-to-print shops, PageDNA helps your business by making it easy to adopt and use the best practices in the web-to-print market. One of the special benefits is the ability to make detailed catalogs or high-tech online storefronts. Also, it can connect with shipping companies, so you can directly add shipping costs to your price models. It also lets you keep track of your inventory to make sure your customers can always get the products they want.
PlanetPress Connect: PlanetPress stands out because it lets you automate mailers by adding barcodes, which means you have to do much less work by hand. It also saves every job, which gives you a useful record of how your company has changed over time and what specific improvements have been made because of PlanetPress.
efi MarketDirect Storefront: With this solution, you will be able to allow your customers to order their jobs more easily, create customized storefronts for your best clients, and even work more automation into your offering. This is a great platform for simplifying the ordering of your clients and reducing errors by your staff.
In the end, having a successful print shop requires strategic planning, skillful use of the right tools, and a strong commitment to always getting better. Novatech is passionate about helping print shops reach their full potential with software solutions that are the best in the business.
Our experienced professionals are always ready to help you set up systems that get real results, improving the efficiency of your operations and, by extension, your bottom-line profits.
FAQs
A copy machine or an output printer is an important tool a print shop uses. The solutions we offer go beyond that. Our solutions increase the productivity of your staff, improve the quality of the prints, and make clients happier. All of these things add up to make your processes as cost-effective as possible as a whole.
Even though these solutions tend to be more useful for bigger operations because of how much they do, they are fully scalable and can be changed to meet any print shop's needs. As a result, they can still help smaller print shops in a lot of important ways.
Novatech is dedicated to giving full support before, during, and after the implementation of our solutions. Our team will make sure you get the training and knowledge you need to use these products to their fullest ability. Our solutions architects are ready to give your staff personalized, in-depth training. This makes sure that our solutions fit smoothly into your workflow and are used effectively in your daily operations.
Welcome To The
Future of Priduction Print

—Fully Managed, Seriously Simple
Let's
Talk