Some firms say their products and services deliver "Raving Fans." We invite ours to speak for themselves.
Ever since Ken Blanchard coined the term "raving fans" in 1993, organizations have been pursuing that goal like a tenacious dog chases a ball. And, like the aforementioned dog, some retrieve the ball, while others don't. At Novatech, rather than write volumes of copy proclaiming we have raving fans, we do the hard work of ensuring our clients are delighted, every day, with every single aspect of our products and solutions.
From meeting an aggressive uptime goal (99.999%) to never promising something we are not certain we can deliver, our work over the years has led many clients to tell us, "Great job!" Some of them pay us the highest compliment by also agreeing to go on public record about their enthusiasm.
We capture these endorsements as case studies, where we report on the project, ask for their testimonial, and ensure they are 100% confident that everything we say is accurate and honest. We have excerpted some quotes from their testimonials here. To read entire case studies, click on the links below.
"Zac Brown Collective has a complex IT structure and Novatech has done a great job at providing quality and consistent service to maintain their infrastructure."
Harold Earls, COO, Zac Brown Collective
"They provide as close to perfect uptime as anyone possibly can, and they are responsive. We are [also] confident that when you log-in, there is security that will protect your ID and information."
Dr. Anthony Mari. CEO, TactusMD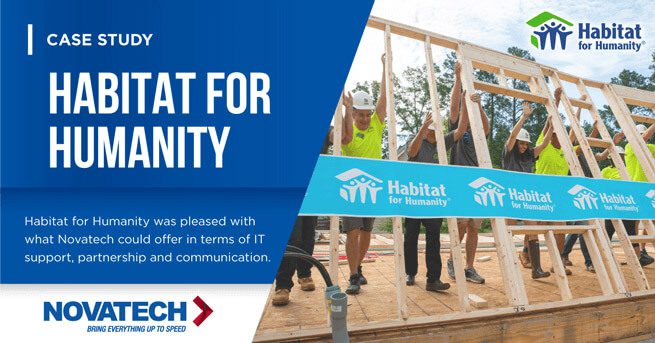 "Our ongoing service with Novatech is great. My team enjoys working with both the onsite technicians as well as the voices on the phone. Implementation of services has always gone smoothly, because when problems arise the team is already in place to quickly fix them."
Aaron Sibley, Site Design and IT Project Manager. Habitat for Humanity
Bring Everything Up To Speed