DocRecord: Your Key to a More Efficient Business
Electronic Content Management (ECM) affects every part of your business, after all. It's not just a tool for one area; it's a full-scale organizational powerhouse. When the right choice is made, an exponential increase in productivity and efficiency could lead to a noticeable rise in profitability for all your business areas.
As experts in document and content management, Novatech has helped many businesses choose and set up the best tools to make their organization run more smoothly. Having the best tools is not enough, you need experts who can help you with the settings and workflows that will help your organization thrive.
DocRecord by Prism is a market-leading ECM tool that was carefully made to make your work easier and make you more productive.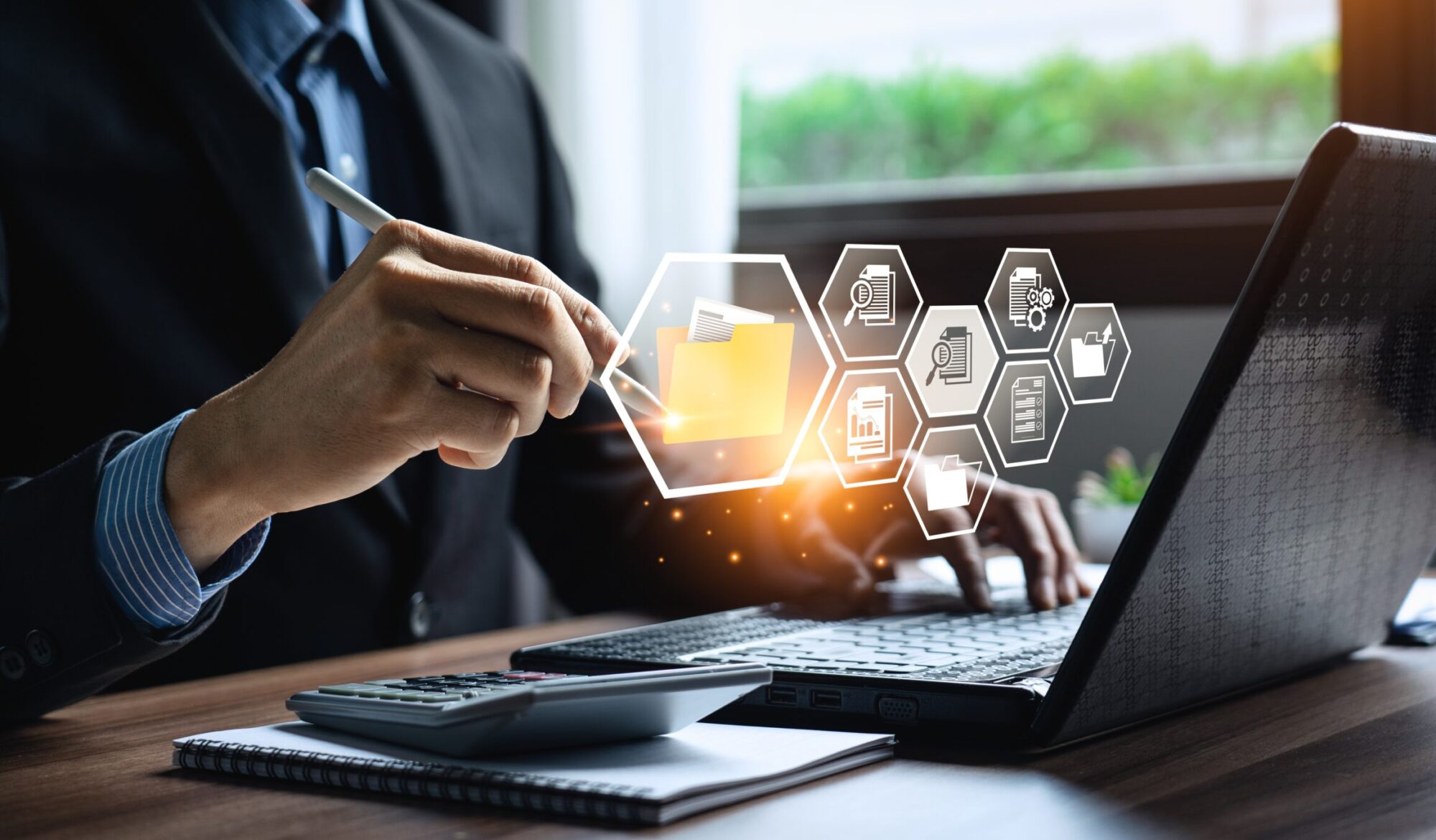 Advantages of using DocRecord:
Automate: Automate important work processes like Accounts Receivable (AR) and Accounts Payable (AP) for smooth budgeting.
Secure: Store and back up all your important info in a safe place where you can access it anytime from anywhere. All while giving you the control you need for every file in your business.
Forms: Use eForms to improve and ease the way you collect data.
Centralize data: Get rid of the chaos caused by network files and shares.
Automate capture: Automatically take info from documents and extract it. The extracted data can then be used to populate core databases to ensure your team reduces the number of human input errors by having the wrong data in the wrong field.
Automate workflows: Automate unique tasks, which is something that most accounting teams need to do. The workflow management aspect of DocRecord is a core strength of the content platform solution.
DocRecord brings together the general ease of searching in ECM with the intelligence of job routing. This automation makes tasks easier to handle and info easier to get to (while still keeping it safe).
DocRecord is trusted by the following industries:
To get a better idea of DocRecord's potential, let's take a closer look at how it's used in accounting departments. Even though these features are useful in many areas of the business, we decided to focus on accounting to give you a better idea of what DocRecord can do in one important area of the business.
The details of running an accounting department are very complicated, and even a small mistake can have big effects on your team. Let's look at how our clients in accounting departments use DocRecord to improve vendor relationships and employee morale as this is much easier than manually doing these processes.
Data Capture: Use automatic data capture from PDFs, forms, and emails so that you always have the information you need on hand. This automation makes it so that people don't have to do much, except to set up specific routes or rule sets.
AP Scheduling: Set up check runs and notifications to keep an eye on payments that don't go according to plan.
AP Validation: Compare purchase orders and bills to see if the amounts and information match.
Routing Rules: Set up workflows to get approvals based on the name of the seller or the amount of the invoice.
Workflows that are correct and automated make everyone's jobs easier. We suggest getting in touch with one of our specialists if you want to try out this transformative automation software and see how the system intuitively allows for necessary overrides. We are interested in helping businesses become more efficient and profitable.
If you want to talk to an engineer about how DocRecord can help your company increase productivity, cut costs, and reduce risks, we'd be happy to talk more with your team about what DocRecord has to offer. Accept the work of the future. Start using DocRecord.
FAQs
Absolutely not. We help install and train customers who use DocRecord for accounting, project management, case files, human resources, etc. If you have a manual document process and need to file and tag documents, DocRecord can make your job easier.
The easiest way to get records into the system is with the desktop client and API's provided by DocRecord.
DocRecord uses role-based security to make sure that the documents saved in the system are safe and secure and that only the users who are allowed to see those documents can see them.
DocRecord protects all interactions between the document server and its client components by using transport-level security.
DocRecord keeps track of changes to papers by using version control. Before a user can change a document, the document must be checked out, and the user must have the right to check out the document. When the user signs the document back in, DocRecord makes a new version with the changed files. It also keeps the original files from the previous version, so the user can go back to the previous version if they want to. DocRecord lets users keep audit logs of all or just some of the things they do when working with papers that are managed by the system.
Remove Process Friction. Make Teams More Productive.
Let's
Talk